Abby Joseph Cohen Is More Concerned About Bonds Than Equities
(Bloomberg) -- Goldman Sachs Group Inc. senior investment strategist Abby Joseph Cohen sees pain ahead for bond investors.
While the valuation of the S&P 500 index is "okay, not great," Treasuries have room to fall as the U.S. economy continues to expand through next year, she said in a Bloomberg Television interview Tuesday.
Ten-year Treasury yields will climb to 3.6 percent by the end of 2019, from about 2.96 percent now, according to Cohen, who rose to prominence after predicting the equities bull market of the 1990s. Yields on the global borrowing benchmark were last at the level she's currently predicting in 2011.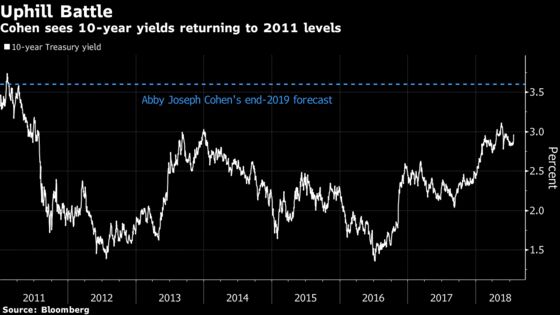 "I'm more concerned about fixed income than equities," the strategist said. "There's already been a notable rise in interest rates at the intermediate and long end. I think it will be increasingly difficult for fixed-income investors to do well."
Treasuries have rebounded since 10-year yields hit an almost seven-year high of about 3.13 percent in May. Meanwhile, the S&P 500 index has risen around 5.7 percent this year, after climbing 19.4 percent in 2017.
However, the risk of a trade war could alter the outlook, Cohen said. With U.S. President Donald Trump threatening to impose tariffs on any country that treats the U.S. "unfairly" on trade, that could reduce demand for U.S. stocks, according to Cohen.
"Over the last year or two or three, the significant demand in U.S. equities has come from the countries where the president is now talking about slapping significant tariffs," she said. "That can't make those investors particularly friendly towards the United States."