Secret Tapes Have Peru Tangled in Political Scandal Once Again
(Bloomberg) -- Peru's crises often start with a secret tape.
Alberto Fujimori's government imploded in 2000 after clandestine videos showed his intelligence chief handing piles of banknotes to lawmakers, judges and military officials. Three months ago, a lawmaker used a wristwatch camera to film allies of then President Pedro Pablo Kuczynski appearing to negotiate votes to avoid his impeachment. Kuczynski resigned the following day.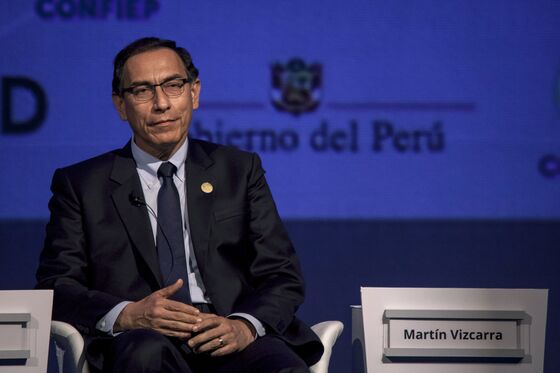 Now, recordings leaked in a drug-trafficking probe capture judges negotiating sentences and court appointments and exchanging favors. The latest scandal imperils the administration of Kuczynski's successor, Martin Vizcarra, and threatens what many saw as the best chance of escaping a dysfunctional era and setting a $215 billion economy on firm footing.
For most of two decades, Peru prioritized policies that galvanized growth, slashed poverty and made it a darling of global investors. But its political and judicial systems were weak and easy prey for organized crime and crooked officials. In 2016, Wall Street veteran Kuczynski came to power, but his plan to modernize electoral laws and change the way judges are picked bogged down in congress, which is controlled by the Popular Force party led by Keiko Fujimori. Since his resignation, the Andean nation has been backsliding into byzantine intrigue.
"These kind of structural problems are like an anvil tied to your leg, holding you back," said Aldo Ferrini, chief executive officer of AFP Integra, Peru's biggest pension-fund manager. "It takes a scandal like this for people to really start demanding drastic changes, to have a country with a future."
After grappling with hyperinflation and a Maoist guerrilla insurgency in the 1980s and 1990s, Peru liberalized its economy, slashed public debt and used proceeds from a decade-long commodities boom for roads, airports and power lines. BHP Billiton Plc and Glencore Plc built mines that turned it into the world's second-largest copper producer after Chile.
Kuczynski set out to lure more foreign investment, boost infrastructure outlays and cut back regulation. And indeed the International Monetary Fund expects Peru to post the fastest growth among Latin America's major economies this year and next, with 3.7 percent and 4 percent growth respectively. Its public debt is the lowest in the region after Chile. Its local currency bonds have generated a loss of 0.45 percent this year, but that's better than the average 5.7 percent loss for emerging markets, according to Bloomberg Barclays indexes.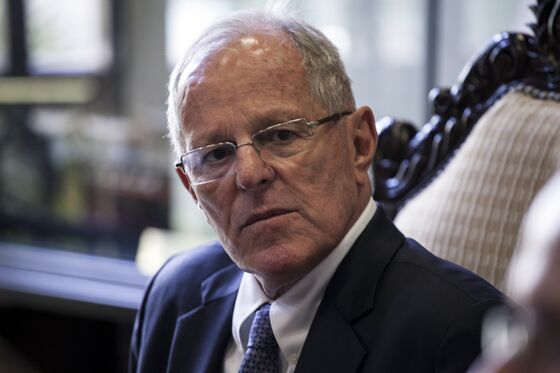 Corruption, however, threatens the growing prosperity: It's the most problematic factor for doing business in Peru, according to the World Economic Forum's 2017-2018 global competitiveness index. The nation ranks 116th out of 137 countries for the quality of its institutions.
Events in the past two weeks won't help. More than three dozen secret recordings have been published, mostly by investigative news website IDL-Reporteros. The conversations point to an illegal network that sought to influence appointments within the judiciary and the public prosecutor's office to protect allies from prosecution and jail.
"The capture of public institutions seems to be a lot more extensive than anyone had imagined," said Samuel Rotta, executive director of Proetica, the Peruvian chapter of Transparency International.
Chaos has ensued, with the resignations of the justice minister, the head of the judiciary and supreme court as well as four members of the National Magistrates Council, which controls the appointment of judges and prosecutors. One senior judge was arrested and Congress's ethics committee said it will investigate four lawmakers mentioned on the tapes.
Vizcarra's government is braced for the release of more recordings. More than 2,000 taped phone conversations may be have been leaked, Justice Minister Vicente Zeballos told Canal N on Sunday.
Vizcarra, Kuczynski's former vice president, has pledged to embark on a deep reform of the system. "We're not going to permit the decomposition of Peru's institutions," he said in an July 17 address.
More than two dozen industry groups said Friday they're ready to support an integral reform comprising everything from the attorney general's office to the penitentiary institute. Rallying allies behind a purge of corrupt judges may bolster Vizcarra's leadership. The civil-engineer was little known when he took over in March and, while he's spent time recently travelling the country and inaugurating public works, his popularity has already waned.
"He needs to take risks, because if he doesn't demonstrate he has strength to govern and move ahead" his popularity is going to keep declining, said Hernan Chaparro, country head for market research firm GfK SE.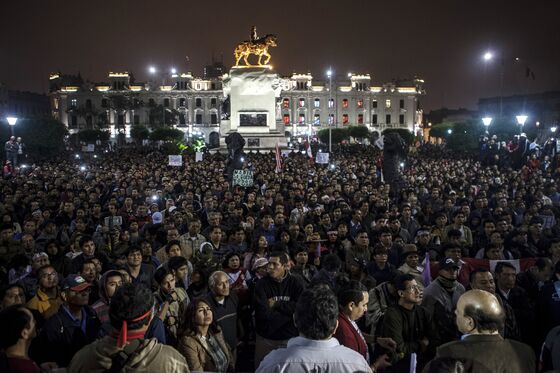 His plans will likely require pressure from the streets, said Rotta. Peruvians are still reeling from a probe into bribes paid by Brazilian construction giant Odebrecht. Fujimori and Peru's last three presidents are under investigation for receiving campaign donations from Odebrecht. The latest eruption has caused popular fury.
Tens of thousands of Peruvians marched in cities around Peru on Thursday to protest corruption.
"The justice system and the entire Peruvian state is rotten in my view. We can't put up with it anymore," said Nina Vasquez, a 31-year-old accountant from Lima, as she observed a protest in front of the judiciary's headquarters. "Vizcarra has a great opportunity, because the population is with him right now."
Jo Marie Burt, who teaches at George Mason University's Schar School of Policy & Government in Arlington, Virginia, said that control of the judiciary has been the historic key to the nation.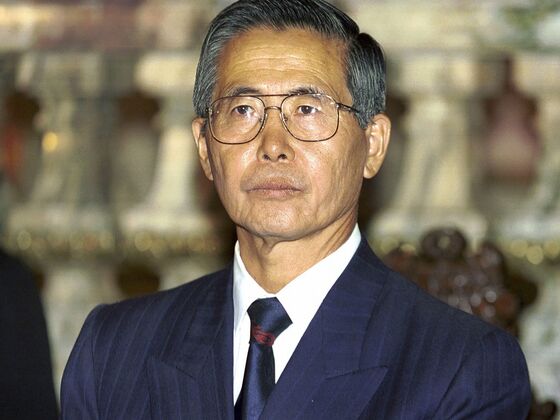 "Players have sought to cover up corruption, drug-trafficking, money laundering but also control their political power," she said.
Graft gets in the way of everything from building highways to houses and is a drag on productivity, said Ferrini with AFP Integra.
"If the reform's done well, the injection of optimism will be huge," he said.