Investors Are a Lot Easier to Impress With Earnings This Time Around
(Bloomberg) -- Growth may be slower, but earnings are having an easier time raising investor pulse rates in the second quarter than they did in the first.
Among companies that have beaten analyst estimates -- and that's practically all of them -- stocks outperformed the S&P 500 by a median 0.9 percentage point on the first day, data compiled by JPMorgan showed. That compares with a paltry 0.2 point last season and is poised for the best in two years.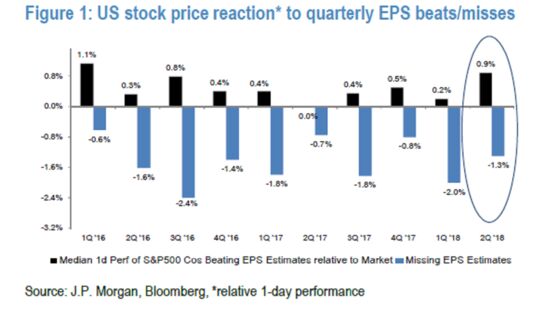 Corporate guidance is also encouraging. Countering JPMorgan's expectation that management would use trade tariffs as a reason to refrain from issuing higher forecasts, 67 percent of the firms have raised their outlooks, the second-most in five years.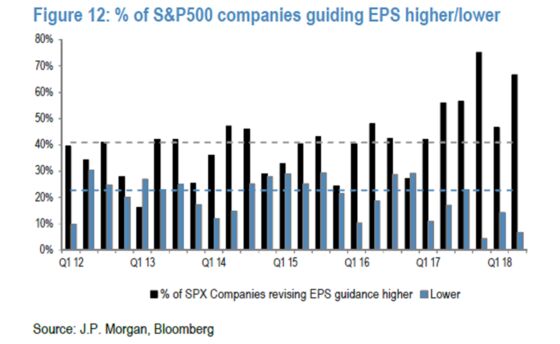 The data is heartening in a market where anxiety over trade wars and summer liquidity is resurfacing. Unlike April, when a 24 percent surge in corporate profits did little to lift stocks, bigger gains this time around are a sign investors are recognizing fundamentals are nothing but solid.
"Initial results appear to be supportive of our view that earnings will be reassuring," strategists led by Mislav Matejka, wrote in a note Friday. "Broadly, while we expect strong earnings and sales delivery this quarter, guidances could be more muted, as companies could possibly sound cautious with respect to adverse trade impact. However, so far the reporting season appears promising."
Amazon and Facebook are scheduled to join the busiest time of the reporting season this week. Profits for S&P 500 companies are estimated to increase 20.6 percent in the April-June period, a pace that'd exceed all but the first quarter of this year since 2010, data compiled by Bloomberg show.