India Sensex at Record as Modi Cuts Tax, Wins Confidence Vote
(Bloomberg) -- Indian stocks advanced to a record after India slashed taxes on a slew of products and Prime Minister Narendra Modi defeated a no-confidence vote in the Parliament.
The S&P BSE Sensex rose 0.6 percent to 36,718.60 in Mumbai. State and federal lawmakers cut goods and services taxes on more than 50 products, while the defeat of the opposition-led motion allayed concerns that Modi's party may fall short of a full majority in next year's federal poll. All but one sector sub-index compiled by BSE Ltd. gained, led by a gauge of telecom companies. ITC Ltd. gave the biggest boost to the benchmark index while shares in Wipro Ltd. and HDFC Bank Ltd. fell after their earnings reports.
"The government is making moves in the right direction with Modi winning the confidence vote and reducing the GST rates," Deven Choksey, managing director at KR Choksey Shares & Securities Pvt., said by phone.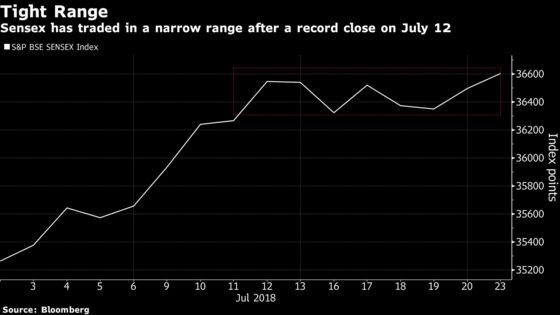 India's April-June earnings season, through to the middle of August, has had a mixed start. Net income at six of 12 NSE Nifty 50 Index companies that have reported so far have either met or exceeded estimates, according to data compiled by Bloomberg. The Sensex Index has advanced 7.8 percent this year, holding on to its title as the best performing stock market in the Asia Pacific region.
Here's the latest on what analysts are saying about Indian stocks:
Wipro Is Expected to Grow Less Than Peers, Industry: Dolat
Lloyd Benefits Emerging, Improving Havells Outlook: Edelweiss
Jefferies Sees Bajaj Auto Margins Staying Under Pressure