Flight to Safety Expands Into Intermediate-Terms Bonds
(Bloomberg) -- Short-term Treasury securities have been a popular haven for a while now. But with gold hitting new lows and cash equivalents growing more attractive, investors are also flocking to their intermediate-term siblings.
Investors poured a record $312 million into the Vanguard Intermediate-Term Treasury ETF, or VGIT, last week. The inflow signals yet another sign traders are hedging bets against market uncertainty by moving into fixed income. It also doesn't hurt that VGIT comes cheap at only seven basis points. Still, buyers haven't forgotten about short-term debt. The Vanguard Short-Term Treasury ETF, or VGSH, saw record weekly inflows last week of similar amounts, growing the fund by $313 million.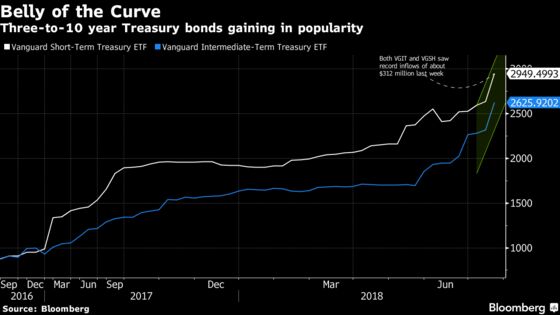 "Vanguard, no surprise, has been one of the cheapest ways to play the belly of the yield curve," James Pillow, managing director at Moors & Cabot Inc., said. "More importantly, for the first time in a decade investors can get a respectable yield, without chasing risky assets."
VGIT tracks three-to-10 year U.S. Treasury bonds and not their short-term peers, but investors still see this ETF as a place to hide out until there are clearer skies, he said. Intermediate-term bond yields are climbing back to their highest levels since 2006, when they topped 5 percent.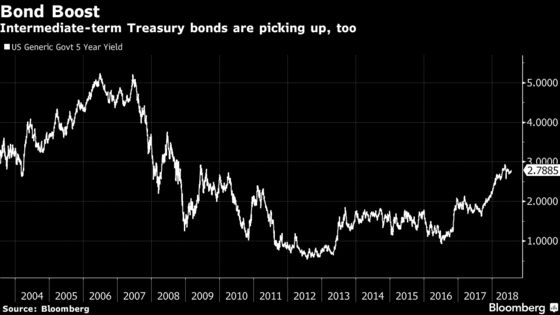 To be sure, despite inflows like those into VGIT and VGSH that signal positive investor sentiment about the short-end of the yield curve, equity returns aren't on a sinking ship.
"Using the short end of the curve as an opportunity for cash, I think, will become more prevalent going forward but I still think we've got an awful lot of fiscal tailwinds when you think about infrastructure spending, reduced regulation, improved lending capacity," said John Lynch, chief investment strategist at LPL Financial. "There's some room to grow in equities."