Global Bonds May Suffer From Even a Small BOJ Policy Tweak
(Bloomberg) -- Global bond markets may be next to feel the impact of the biggest surge in Japan's benchmark 10-year yield in almost two years.
The advance in the yields, which came on the back of media reports that the Bank of Japan may discuss possible changes to its ultra-loose monetary policy next week, can potentially have a bearing on the 269.5 trillion yen ($2.4 trillion) of overseas bonds owned by Japanese funds.
Higher domestic yields could see a part of this money return home, especially as currency-hedging costs for dollar investments remain high. The BOJ's negative interest-rate policy, followed by its yield-curve control program in September 2016, has prompted Japanese investors to seek returns from overseas debt.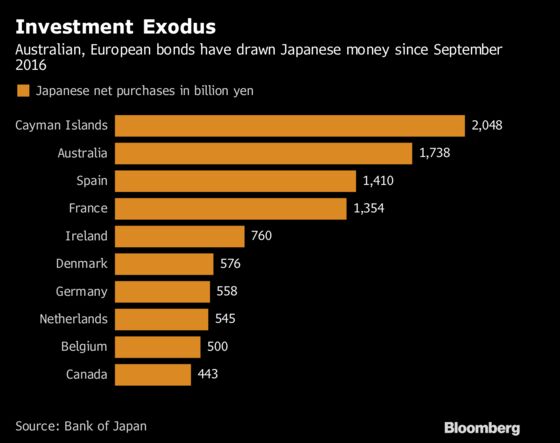 "Japan has been an exporter of money for a long time and that has held global yields down to some extent," said Martin Whetton, a senior rates strategist at Australia & New Zealand Banking Group Ltd. in Sydney. If yields in Japan were to go higher, "then obviously that has an impact," he said.
That may already be evident. The 10-year yield in Australia -- one of the biggest receivers of Japanese money since September 2016 -- climbed the most since early June on Monday, causing the sovereign curve to bear-steepen. Whetton estimates Japanese money accounts for somewhere between a quarter to a third of Australia's rates market.
Spain and France are among the nations that have seen major inflows from Japan since September 2016, according to the Asian nation's balance-of-payments data. Investments in the Cayman Islands are probably in funds operating in the territory.
German bonds sold off, tracking the moves in Japanese bonds, with the yield on 10-year securities climbing five basis points since Thursday's close to 0.38 percent. Over the same time period, those on their French peers increased seven basis points to 0.7 percent. The U.S. yield curve steepened, with the premium to hold 10-year notes over their two-year counterparts touching 30 basis points, the highest level in more than two weeks.
To be sure, the jump in Japanese yields Monday saw the central bank step in with an offer to buy an unlimited amount of bonds. The move was in line with its policy objective of keeping the yield at around zero percent, an official at the financial markets department said.
"What it means is uncertainty, predominantly from non-domestic investors in JGBs, which will have a knock-on impact on Treasuries and European government bonds," said Peter Chatwell, head of rates strategy at Mizuho International Plc in London. "There are bearish duration risks in core EGBs, on the fear that the JGB curve could sustain a bear steepening."