China Hedge Funds Trigger Investor Unease With June Implosion
(Bloomberg) -- For the most die-hard bulls among the China-focused hedge fund community, June was a month of reckoning.
Funds with the highest net exposures to China's markets suffered hefty losses after the benchmark stock index posted its biggest monthly decline since January 2016. Among them are Top Ace Asset Management's China-focused Scienart Advantage Fund, which plunged an estimated 20 percent in June, according to people with knowledge of its returns. Greater China funds run by Yuanhao Capital Management and Modus Asset Management also slumped.
The selloff sparked by an increasingly fractious trade backdrop is a stark reminder of the volatile nature of China's boom-and-bust stock market , and risks stifling a wave of interest from global investors who had been returning to the region as memories of earlier routs faded. The flow of money into Greater China hedge funds cooled in the first half.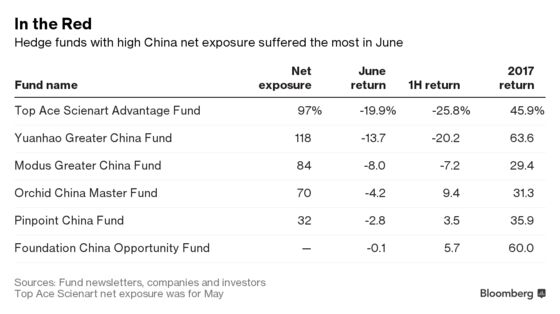 "The sudden turn of sentiment starting mid-June has resulted in a panic stampede as investors sell shares indiscriminately," Modus said in its newsletter.
China-focused hedge funds lost 4.4 percent on average in June, the biggest drop since January 2016, according to Eurekahedge. Investors are also pulling back -- inflows into Greater China hedge funds totaled just $306 million in the first half, compared with $1.7 billion for all of 2017, the data show.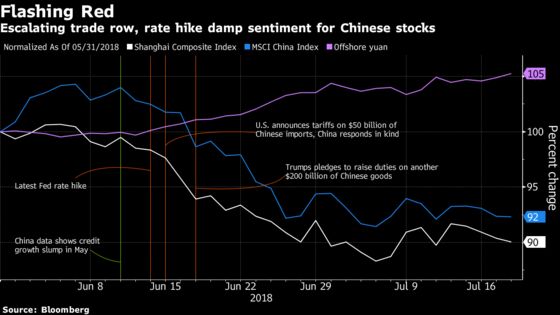 "It's slowed, but investors aren't exactly headed for the exit just yet," said Mohammad Hassan, head analyst of hedge fund research and indexation at the Singapore-based firm. Last year "saw strong allocation activity, not just in Greater China mandates but globally as well. This year on the whole the trend is more cautious."
Morgan Stanley's Asia hedge fund clients cut their net leverage by about 25 percentage points since January to 45 percent, the bank's prime brokers wrote in a July 3 note. Managers such as FengHe Fund Management and Kingsmead Asset Management have both cut allocations to Chinese stocks.
The Shanghai Composite Index slumped 8 percent in June as the trade row with the U.S. flared into tit-for-tat tariffs and China's crackdown on shadow banking led to record defaults and higher borrowing costs. The yuan has weakened more than 4.5 percent since the Federal Reserve raised rates June 14, further damping sentiment.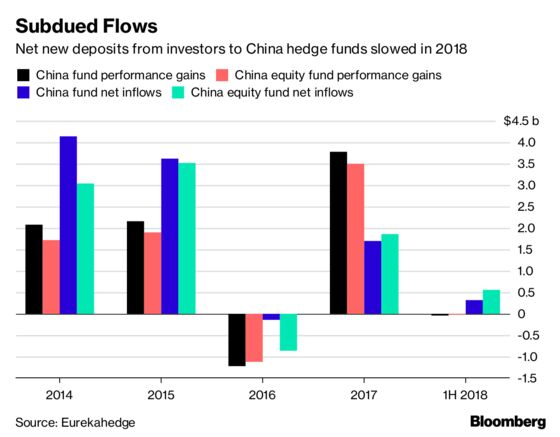 The damage was not limited to China-focused funds. Asia-wide, hedge funds lost on average nearly 2 percent in June to finish the first-half with a 1.2 percent drop, according to Eurekahedge. Among other hedge funds with sizable losses in June, according to newsletters and company officials:
L1 Capital Long Short Fund fell 6.1 percent on wrong-way bearish bets on "highly priced, speculative 'momentum' stocks"
Rays Asian Equity Special Opportunities Portfolio lost 5.9 percent as smaller Chinese stocks were crunched by tighter financial conditions and the yuan's decline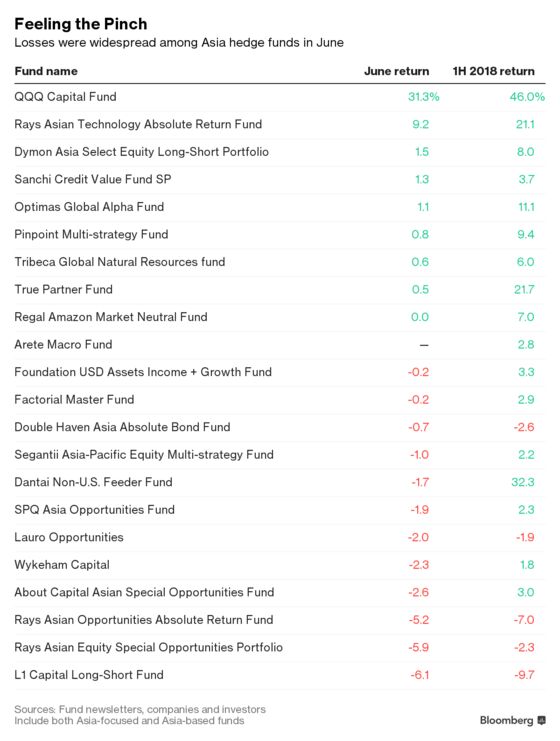 Representatives for Top Ace, Yuanhao, Modus and Dantai declined to comment on the performance numbers.
It wasn't all bad news, however, with some funds posting gains:
QQQ Capital Fund surged 31 percent, helped by rallies in technology stocks and Chinese education companies
The $165 million Dymon Asia Select Equity Long-Short Portfolio gained 1.5 percent, led by bearish bets against stocks from China and Japan to Southeast Asia, and wagers against the won, offshore yuan and Australian dollar
Optimas Global Alpha Fund rose 1.1 percent, profiting from bets on Hang Seng Bank Ltd. and personal-hygiene product maker Hengan International Group Co., and bearish trades against auto makers and property companies
Pinpoint Multi-strategy Fund reported its 16th straight monthly gains as it cut net equity exposure to 18 percent.
Fund managers see markets remaining volatile in the short term. While a temporary correction to prices seems inevitable, Optimas said China's government is unlikely to allow this lead to systemic risks. If the deleveraging drive is successful, "we could see multi-years of structural bull market for China," it said in the newsletter.
China may cut income taxes and lower import tariffs to limit the damage to consumer confidence and help calm markets, Modus said in its newsletter. Pinpoint expects China to let its currency depreciate in the medium term while avoiding a sharp decline which would damage already-negative investor sentiment, said Jennifer Wong, managing director of investor relations.