Hong Kong Property Bears Rear Their Heads (Yet Again)
(Bloomberg) -- Hong Kong's property market has a habit of humbling the bears, shattering predictions that the laws of gravity must eventually prevail.
But now, a crosscurrent of headwinds -- from a slowing Chinese economy to upcoming interest-rate hikes and a reinvigorated regulatory push to tame home prices -- have emboldened some longstanding skeptics to renew calls that a correction could be imminent. Citigroup Inc. last week called time on the party, predicting a 7 percent second-half slide, and Bocom International Holdings Co.'s Hao Hong sees the possibility of a decline of more than twice that.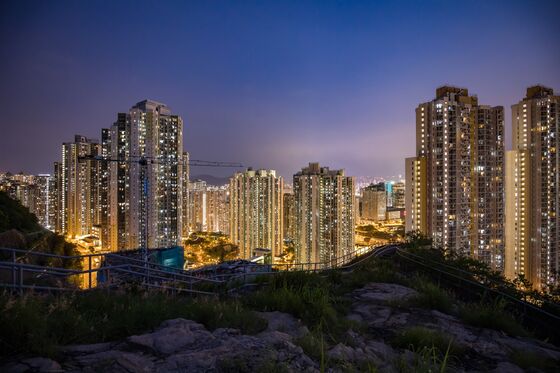 "Property stocks are telling you that the correction is coming," Hong said, citing equity declines as a leading indicator, as the Hang Sang Property Index is down 14 percent from a Jan. 26 peak. "I won't be surprised to see prices coming down 15 percent in the coming months."
It isn't a foregone conclusion that the world's least affordable property market will come crashing down. In a place where flats the size of two parking spaces sell for north of $1 million, buyer exuberance has swept away all pessimistic forecasts. But government efforts to tackle sky-high prices are suddenly getting help from an array of external forces, including Donald Trump's push to tackle Chinese trade practices he calls unfair.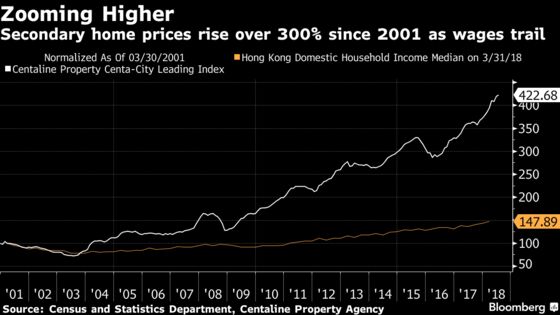 For Citigroup analysts including Ken Yeung, a 13 percent gain in prices in the first half has increased the risk of a correction in the second, while an economic slowdown in China could serve as a trigger. Nomura Holdings Inc. is sticking with its forecast for prices to be flat for the year -- indicating a slide in the second half -- while Bank of America Merrill Lynch sees a 10 to 20 percent correction in 2019-2020.
Hong Kong's property bears have been wrong before. Citigroup's analysts have made three bearish calls from November 2016 only to watch as prices advanced by 30 percent. And many analysts see no meaningful impact from higher interest rates any time soon, especially when real rates remain negative because of inflation, fueling buyer enthusiasm. Mortgage rates at historic lows and a supply shortage that the government can't solve quickly may also cushion any market declines.
Simon Smith, who heads Savills Research & Consultancy, says Hong Kong home prices could continue rising another 5 percent to 10 percent in the second half, supported by ample liquidity. Still, there are other risks this time around, including an escalating trade dispute that could roil global economies and exacerbate a slowdown in China.
"We are most concerned about the implication of a trade war. It would ravage the global economies, particularly China, which has an implication for valuations and stock market indices, and will finally have an impact on the housing market in Hong Kong," said Smith, although saying that the scenario isn't very likely.
Government cooling measures such as the vacancy tax will only amplify the scale of any slump, according to Denis Ma, head of research at Jones Lang LaSalle Inc. If approved by lawmakers, Lam's proposal will require apartments left unsold for more than six months to be taxed at twice the annual rental income, or about 5 percent of the unit's value.
"There isn't going to be any soft landing with these measures in place," Ma said.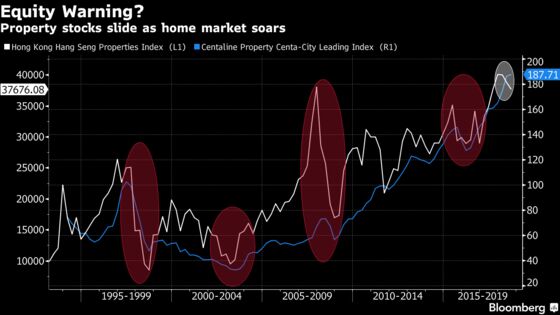 The city's prime rate, which sets the upper limit on mortgages, is poised for the first increase in a decade. That could deflate demand from first-time buyers, predicted Ryan Lam, head of research at Shanghai Commercial Bank Ltd.
"It will end up becoming home exchanges between existing owners," Lam said. "When people realize there's only current players and no newcomers, the sentiment might overturn."