Betting on Serenity Is Winner for Europe Stocks in Dog Days
(Bloomberg) -- Trading in European stock markets is so boring this summer that a strategy betting on minimal movement in shares is making more money than betting on solid appreciation.
A buy-write strategy for European blue chips -- which combines long equity exposures with sales of call options amid expectations the index moves will be muted -- has earned about 3.6 percent since May 31, compared with a 1.7 percent return for the underlying Euro Stoxx 50 index.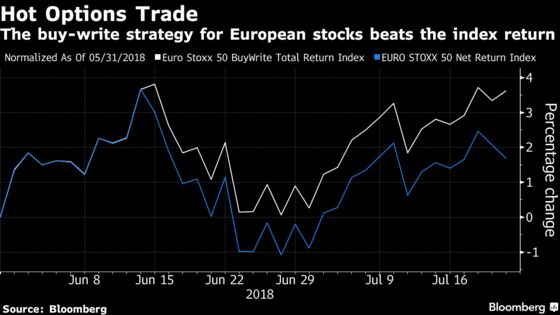 "A write-buy strategy should outperform in a sideways-moving market, as we currently have," said William Hobbs, the head of investment strategy at Barclays Investment Solutions in London. "At the moment yes, betting on limited gains is a winner, but our hunch remains that the current one step forward, one step back trading environment will be resolved as the improving fundamental backdrop for corporates shines through a little more forcefully."
Volatility in the region's equities has declined despite the U.S.-China trade dispute as investors are reluctant to act abruptly during the low-volume dog days of the summer. The VSTOXX Index that measures Euro Stoxx 50 volatility has averaged 14.7 in June and July, down from 16.1 earlier in the year. It jumped 7.2 percent on Friday to 13.8, as U.S. President Donald Trump threatened to slap duties on all imports from China, and said the Asian nation and the European Union have manipulated their currencies and interest rates.
An economic recovery in Europe, upbeat earnings from such companies as Volvo AB and Nordea Bank AB and the euro's weakness are spurring optimism among some investors that European equities will recover in the second half of the year.
But so far this year, the benchmark Stoxx Europe 600 index is down 1 percent compared to the S&P 500's gain of 4.9 percent, due to perceptions about the effects of U.S. tariffs, as well as political volatility in Italy, Spain and the U.K.
In a buy-write trade, the fund earns income from selling the calls, in exchange for giving up the appreciation beyond the exercise price of the options. So if the markets eventually do start gaining strongly, the buy-write strategy will give up the additional premium on the underlying European stocks index.
"Under the buy-write strategy, if the markets are trading sideways, investors get the premium plus the Euro Stoxx 50 performance," said Ulrich Urbahn, head of multi-asset strategy and research at Joh Berenberg Gossler & Co KG in Frankfurt. "I am optimistic about European stocks as the brokers get more cautious, positioning is moderate and the markets will get used to Trump."