Netflix Wavers Near Key Support Levels in Worst Week Since 2016
(Bloomberg) -- A four-day slump in Netflix Inc. after disappointing second-quarter earnings has pushed the shares below one key support level and left them testing a second.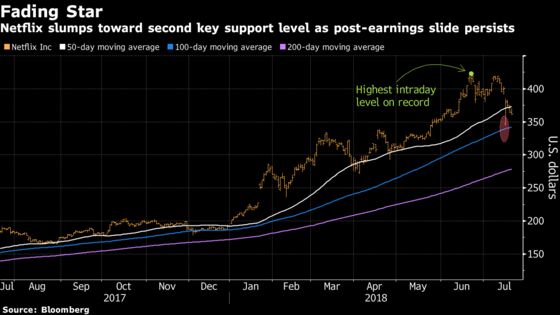 Netflix fell as low as $344 on Tuesday after the streaming-video company's forecast for subscriber growth trailed analysts' estimates. That was a hair's breadth from their 100-day moving average, a level they've mostly remained above for the better part of two years.
The stock swung between gains and losses Friday but never broke above the 50-day moving average, which has been a support level throughout the on-again, off-again market rebound from this year's correction. It closed below that line Thursday for the first time since April.
Netflix, which touched a record high of $423.21 in late June, has fallen 8.5 percent this week and is on track for its biggest weekly decline in two years. The shares were selling for $362.49 in Friday afternoon trading.
Bloomberg is hosting a Netflix "Bull Vs Bear" Top Live Q&A on Monday at 12 p.m. with two analysts, BTIG LLC's Richard Greenfield and Wedbush Securities Inc.'s Michael Pachter. Clients can email questions, which will show up as anonymous, to TopLive@bloomberg.net in advance of the event.