Iniesta's Vineyard Flourishes as He Retires From Spanish Soccer
(Bloomberg) -- Spain's World Cup winning striker Andres Iniesta may have played his last soccer match for the country, but his family's wine-making sideline is emerging as a new ballgame.
Iniesta, 34, announced his retirement from the national side after Spain exited this year's competition when it lost to the hosts Russia on penalties in the second round. France beat Croatia in the final in Moscow last Sunday to become World Cup winners for a second time.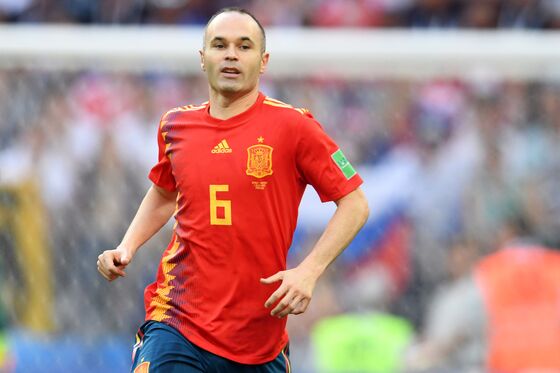 His decision to leave La Roja -- as Spain's national team is known -- came a few months after Iniesta said he would leave FC Barcelona to join the Japanese club Vissel Kobe, causing stocks of his vineyard's wine to sell out in the Asian country. His family is now in talks to sell a stake in the business to his new employers, said Agustin Lazaro, managing director of the winery, Bodega Iniesta.
"Wine has always been a tradition for our family, but we didn't have enough economic power to set up a winery until Andres entered the world of soccer," said Jose Antonio Iniesta, Andres's father and the winery's chief executive officer. "Our goal has always been doing what we like, without necessarily making money. But we've been doing things well and so we keep growing."
The mix of soccer and high-quality products is paying off, said managing director Lazaro. Minuto 116, a wine named after the minute of the 2010 World Cup final in which Iniesta scored the goal that gave Spain its first and only title, is key to penetrate markets in countries where soccer is popular.
The winery produced 1.2 million bottles in 2017, a 500 percent jump compared to 2010. But while seven years ago Spain was its only market, 60 percent of last year's revenue came from abroad.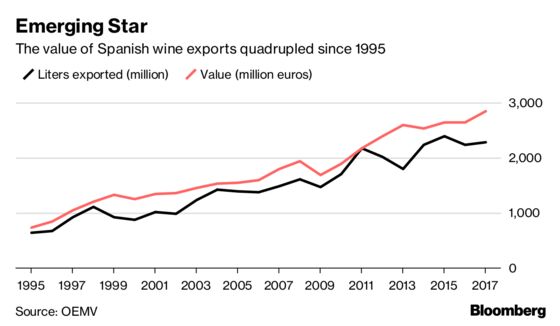 Founded in 2010 in Iniesta's hometown of Fuentealbilla, 275 kilometers (172 miles) southeast of Madrid, the fortunes of the vineyard mirrors a wider boom in business for the Spanish wine industry, the biggest in the world with about one million hectares under cultivation and 530,000 grape growers. Exports climbed to 2.85 billion euros ($3.31 billion) in 2017, a record high, up percent from a year earlier and 289 percent more than in 1995, according to data from the Spanish Wine Market Observatory.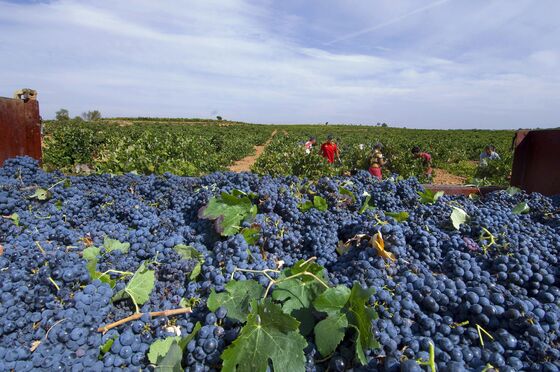 "The fall of internal consumption and spirit production and the development of Spanish wine brands explain why exports are surging," Rafael del Rey, director of the agency known as OEMV, said in an interview at his office in Madrid. "And now, especially in new markets such as Asia and North America, Spanish companies are well equipped to compete."
Although most of the 2.3 billion liters sold abroad last year was bulk wine, the industry is increasingly betting on premium products to compete with well-established producers such as France and Italy, he said.
"In Spain you can find small, peculiar wineries, traditional brands, high-end as well as high-volume producers," del Rey said. "And they're all improving their business."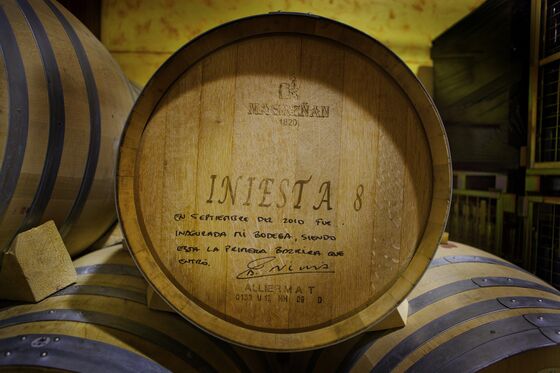 The business is, however, patchy with many companies operating close to break-even, said Javier Perez, who helps manage the 233 million-euro portfolio of Banca March's Vini Catena, a fund that invests in international listed companies related to the wine.
"Spanish wine is regarded as an emerging world star, but the industry is still very atomized," he said.
For its part, the Iniesta's family winery is on a roll as his fame as a soccer maestro boosts awareness of the brand.
"We're exporting to 39 countries," his father said. "With Andres moving to Japan, we're going to expand even more internationally."