Rising Prices Push a Big Credit Investor Out of High Yield
(Bloomberg) -- Junk bonds are much cheaper than they were at the start of the year, but at least one major asset manager says she's getting out because prices are still too rich.
"We generally continue to get out of high yield. We don't see many opportunities today," said Oksana Aronov, head of market strategy for Absolute Return Fixed Income at JPMorgan Asset Management, whose team manages $16 billion in assets. "Without sounding alarmist, I am seeing some parallels between where we were going into 2008 just in this chase for yield," said Aronov.
Aronov's fund has in the past been a buyer of U.S. junk bonds, particularly the lowest-rated debt. At the start of the Trump administration, the new government's focus on small business was viewed as a bullish driver for triple-C-rated companies. The firm's still bullish on the U.S. economy, but the returns aren't high enough to justify the risk.
"We don't think fundamentals are terrible," Aronov said in a July 17 interview. "The issue is the price."
Elevated valuations leave little cushion for investors if the market suddenly moves, when it may be challenging to find a buyer.
"Today, its not so much fundamentals but its the fact that the liquidity picture has changed dramatically," said Aronov.
Underscoring the risk-off strategy, Aronov's fund now has a 40 percent allocation to cash, meaning securities that are eligible for a prime money market fund, including government and corporate debt. When the fund was bullish on credit, as in 2015 and 2016, it had about 17 percent of the portfolio in cash.
"This year cash has outperformed fixed income and we think it will continue to outperform fixed income," said Aronov.
Besides the cash yield, which Aronov estimates at 2 percent, there are advantages to being very liquid. "We continue to maintain significant amount of dry powder to take advantage of dislocation that will come," she said.
According to Aronov, the top five corporate bond ETFs manage assets worth twice as much as dealer inventory in high yield. The buyside has a new role in this scenario.
"They are the liquidity provider now, the sell side is no longer the shock absorber mechanism it used to be," said Aronov.
Aronov said her team's fund is up 1.3 percent this year -- she attributes that to floating rate assets in various forms across investment-grade, high yield, loans and securitized credit. Also contributing to the funds performance is a bias toward lower rated high-yield bonds, shorts on emerging market debt and a small amount of convertible exposure.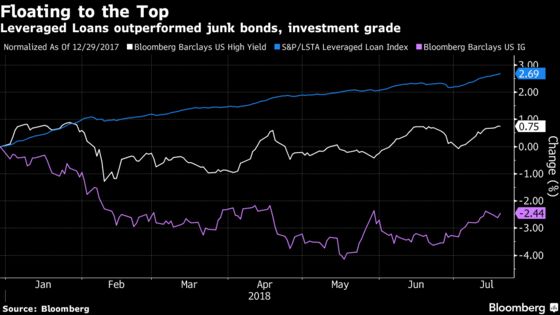 "Floating rate we think will continue to do well as long as the expectation of Fed normalizing stays in place and the economy does well," Aronov said. "Fixed rate product will continue to struggle."
Despite this, Aronov says she isn't buying more loans, "because prices aren't bargains."
The 1.3 percent year-to-date return on Aronov's fund has upstaged other parts of fixed income this year. High yield has returned 0.75 percent over the year while investment grade has dropped 2.44 percent.