Europe Stocks Slide, Led by Autos, as New Trump Tariffs Loom
(Bloomberg) -- European stocks plunged, led by the auto sector, as U.S. President Donald Trump said a new round of tariffs on Chinese goods was "ready to go" and that China and the European Union were manipulating their currencies.
The Stoxx Europe 600 declined as much as 0.9 percent, led by cyclical sectors including carmakers and miners, while the VStoxx jumped. Trump said on Twitter the EU was among those that had been manipulating their currencies, after earlier saying in an interview on CNBC the U.S. is ready to impose levies on all $505 billion of Chinese imports into the U.S.
The president's remarks indicate his willingness to escalate America's trade war with China, dashing hopes the two sides would arrive at a compromise before more tariffs were imposed. Meanwhile, German Chancellor Angela Merkel said the EU is ready to retaliate against any U.S. auto tariffs as it prepares to meet with Trump to discuss the possibility of cutting car duties. The comments came just as global markets were starting to enjoy a reprieve from trade headlines, with attention shifting to the earnings season.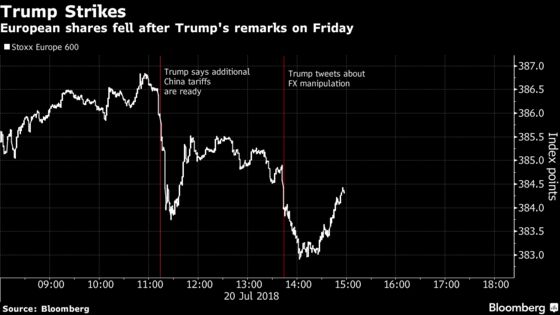 The Stoxx 600 was down 0.6 percent as of 3:05 p.m. in London. French auto parts maker Faurecia led declines in the car sector, which has been whipsawed lately by Trump's threats of raising tariffs on European cars. Peugeot SA fell 3.2 percent while Volkswagen AG lost 3.5 percent.
Beyond autos, Airbus SE fell 2.1 percent and miner BHP Billiton Plc slid 1.7 percent.
Here's what investors and analysts are saying about Trump's latest comments:
Maximilian Kunkel, Germany chief investment officer at UBS Wealth Management, said by phone:
"Core scenario is still that we won't see an escalation that leads to a global recession, but before it gets better, it might get worse. We see negative effects on the risk sentiment even if companies have not yet expressed serious concerns with regards to global trade. We have reduced our global equity overweight. It is not an environment where we turn immediately bearish, but portfolios need to be more balanced."
Arndt Ellinghorst, analyst at Evercore ISI, said by phone:
"The headlines are absolutely painful. In such a conflict situation, no one can buy auto stocks, or even hold them. The sector sentiment through the trade worries is being absolutely killed. And it wasn't that good before.
"If you're an auto exec now, getting customers and orders is the least of your worries. You're only focused on politicians."
Michael Hewson, chief market analyst at CMC Markets U.K., said in a message:
"EU should do nothing -- occupy the moral high ground."
"Not only do we appear to be heading for a trade war, but it also looks like currencies are about to be brought onto the field of battle as well. Weaker U.S. dollar will hurt European stocks as euro rises."
Holger Schmieding, chief economist at Berenberg, wrote in a note:
"A transatlantic trade war stoked by U.S. President Donald Trump poses the biggest threat to our modestly positive outlook for global growth and financial markets. His disdain for rules, allies and multilateral institutions sows uncertainty that is bad for business. Beyond their direct costs for consumers and businesses, trade barriers can disrupt supply chains, stifle innovation and lock resources into less productive uses, impairing short-term demand and the long-term supply potential of the economies concerned."