Dollar in 'Dangerous Territory' After Trump Blasts China, EU on FX
(Bloomberg) -- U.S. President Donald Trump has stopped the dollar rally in its tracks, for now.
The dollar tumbled Friday after Trump criticized China and the European Union for "manipulating their currencies and interest rates lower." The Bloomberg Dollar Spot Index slid as much as 0.74 percent, its biggest intraday decline since March, before paring its loss to around 0.6 percent.
The growing global trade dispute shows no sign of abating, with Trump saying in a CNBC interview aired Friday that he's "ready to go" with tariffs on $500 billion of Chinese imports. That hawkish rhetoric on trade, combined with the president's latest tweet on currencies, threaten to halt the dollar's rally, analysts said.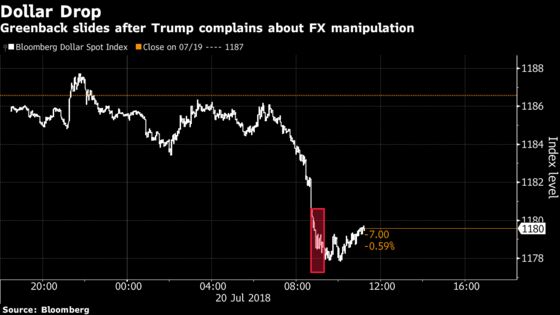 Trump's comments "are very direct and aggressive, and the market has seen that he has pushed forward regarding tariffs," said Shahab Jalinoos, Credit Suisse's head of global FX strategy. "The barrage of commentary will likely force the market to scale back long USD positions."
The decline snaps a three-day rising streak for the greenback, which had advanced amid escalating trade tensions and a weakening of the Chinese yuan. The dollar was down 0.6 percent at $1.1708 per euro as of 11:50 a.m. in New York, and down 0.6 percent at 111.76 yen.
The rising risk of the dollar being used as a weapon in a trade war puts the dollar in "dangerous territory," making it vulnerable to further declines, said Shaun Osborne, Scotiabank's chief FX strategist.
The Trump administration has complained in the past about its trading partners' currencies. It's also expressed a preference for a weaker dollar, which can spur U.S. exports. The latest FX comments precede a meeting this weekend in Buenos Aires of Group of 20 finance ministers, including U.S. Treasury Secretary Steven Mnuchin.
"Global investors are overweight U.S. assets," Daniel Katzive, head of currency strategy in North America at BNP Paribas, said in an interview on Bloomberg Television. "If the U.S. administration creates the perception that they want the currency weaker, it's going to be very tempting for those global investors to reduce their exposure and the dollar will get hurt."
Here's what other analysts had to say:
Mizuho (Sireen Harajli, interview)

"It is clear from the current administration's policy moves on trade that it would prefer to see the USD lower, but I am not sure that verbal intervention by the president will amount to anything substantial," she says
U.S. economic fundamentals remain strong, and will keep the Federal Reserve on track to tighten monetary policy

ING Groep (Viraj Patel, interview)

"These tweets reaffirm the idea that the president just does not want to see a strong USD -- nor higher interest rates"
The market environment may return to similar conditions to January, in which the USD decouples from interest-rate differentials and "investors come to terms with the White House's mercantilist USD policy"
"The fact that he's felt the need to take to Twitter -- and re-affirm this message is a reminder of the administration's desire for a weaker U.S. dollar," Patel says.
Even the smallest amount of uncertainty over the dollar's stability, and questions over Fed independence that's been unchallenged for decades, causes markets to think twice about dollar assets, Patel said

TD Securities (Mazen Issa interview)

"Trump has upped the heat on other currencies," he says. "He can bark all he wants, but the Treasury and the Fed are the ultimate arbiters of USD prospects"
While the rhetoric may intensify tensions with U.S. trading partners, "in the absence of a notable macro catalyst, the USD's considerable carry advantage, and an ongoing weakening in the renminbi, Trump trying to jawbone the currency lower is the equivalent of trying to swim upstream"

CIBC (Bipan Rai, note)

"This is important and it should lead to an increased risk premium for USD longs in the medium-term"
"When the U.S. economy does begin to lose momentum, we expect the Trump administration to lean on Fed policy and continue to talk down the USD," Rai writes
Even though rhetoric doesn't mean Fed will abandon its policy path, it introduces more downside risk into an already-crowded long USD trade