The U.K. Stock Market Isn't Paying Attention to Brexit Chatter
(Bloomberg) -- Almost daily, ministerial spats, intra-party broils and corporate objections to government fill U.K. newspapers. You couldn't tell from looking at the stock market.
British equities -- whether large- or mid-cap, in dollar or local-currency terms -- have outperformed the euro area over the past year. With higher oil prices and still solid growth in earnings and the global economy, domestic investors have enough reasons to disregard the biggest cloud on the horizon -- the possibility of a Brexit that leaves the U.K. cut off from its most important commercial partner.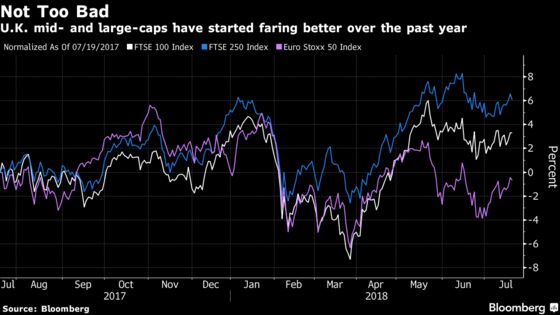 "You don't want to totally leave the U.K. because there is some good value," said Leigh Himsworth, who manages Fidelity International's U.K. stock funds from London. "If there is a decent transition, then it'll be not a bad place to be, and it's not too expensive."
Getting a favorable Brexit outcome will be key to maintaining the market's strength. Recent political turmoil has underscored the difficulty of overcoming the opposition of those in Prime Minister Theresa May's Conservative Party who want a clean break with the bloc as well as getting a deal approved by the European Union. With U.K. stocks having rallied on the assumption of a soft Brexit, the risk is that they are under-pricing the chances of a deal that severs most ties or even a choatic messy exit.
The relationship between the stock market and Brexit has always been less-than-straightforward. After the 2016 referendum, shares initially plunged, but the pound's slide helped large-caps recover on expectations that currency weakness will boost overseas earnings -- a dynamic that has driven the FTSE 100 since then. Small- and mid-caps are more exposed to domestic economic growth, which has largely held up since the vote.
It's not that Brexit hasn't mattered. Foreign investors, who are exposed to pound volatility, have largely turned their back on the U.K. market. Allocations to British stocks stood at net 18 percent underweight, already the highest reading in more than two years, according to a recent Bank of America Corp. survey of global fund managers. In dollar terms, U.K. large- and mid-caps have underperformed the euro zone since the Brexit vote, though the gap has narrowed significantly over the past year.
Fidelity's Himsworth said he's hedged against the possibility of the U.K. cutting main formal ties with the EU by buying stocks with high overseas earnings or domestic companies that compete against euro-denominated rivals.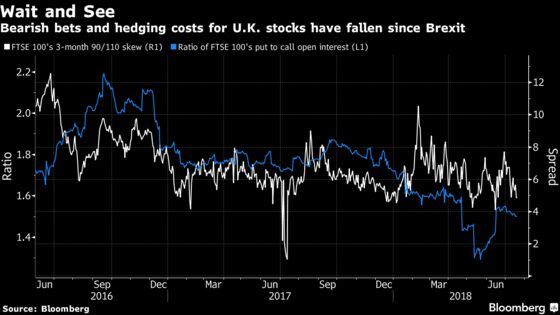 But what's clear is that the political noise isn't scaring investors for now. In the options market, the cost of hedging against declines in the FTSE 100 has fallen this month. Currency traders also seem unperturbed.
"If there were no deal next year, there would be a rocky phase in European markets -- possibly not just in the U.K.," said Sharon Hamlyn, a fund manager at Aubrey Capital Management Ltd. in Edinburgh. "I do think it's possible there'll be no deal because I don't think the EU are minded to let Britain get off lightly."