Yen May Trigger 'Strong' Rally in Japanese Stocks: JPMorgan
(Bloomberg) -- Japan's currency is increasingly trading in tandem with American stocks, in a correlation that resembles moves in September 2017, which presaged a surge in Japanese shares, according to JPMorgan Chase & Co.
"A pattern similar to last September seems to be emerging suggesting a further yen depreciation and strong Nikkei rally," JPMorgan strategists Tohru Sasaki and Shumpei Kobayashi wrote in a note Wednesday. The currency is now likely to hit 115 per dollar "near term," they forecast. It was at 112.38 as of 9 a.m. in Tokyo.
The yen's recent bout of weakness has been connected to Japanese companies sending direct investment abroad and domestic investors piling into overseas securities, countering any of the safe-haven demand that the currency might otherwise have enjoyed from rising U.S.-China trade tensions, the strategists wrote.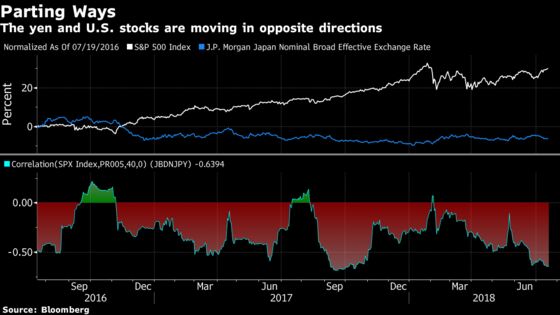 The yen's correlation with a rising S&P 500 Index -- the American gauge is now about 2 percent from its record high -- might speak to "a general improvement in risk appetite among global investors," the JPMorgan duo wrote.
The Nikkei 225 Stock Average surged more than 13 percent from late September to early November 2017, following the increase in correlation cited by JPMorgan for the yen and the S&P 500.
Japan's currency might still appreciate toward year-end, though, and investors should be watchful for any shift in Bank of Japan policy, Sasaki and Kobayashi said. While the BOJ has said any exit from its mega stimulus isn't on the horizon, it has also been tapering its purchases of government bonds -- including at an operation Thursday.
"The current market is ideal for the BOJ to tweak its policy," the JPMorgan strategists wrote.