Pandora Says China Cut to Have No `Significant' Impact on Margin
(Bloomberg) -- Shares in the world's biggest jewelry maker, Pandora A/S, bounced back from their worst slump in eight weeks after the company said price cuts in China will have no major impact on operating margins and only a limited effect on revenue.
After initially plunging 7.3 percent in Copenhagen trading, Pandora shares were down less than 2 percent by around 11:30 a.m. local time.
In an emailed response to Bloomberg, Pandora said the price cuts in China "will not have any significant impact on our EBITDA margin."
"We expect limited impact on revenue as the lower prices are expected to be offset by higher volumes -- including a decrease in gray market trading benefiting our own channels," Pandora said. "In the longer run, it is of course our view that the lower prices will benefit our business in China and the company as a whole."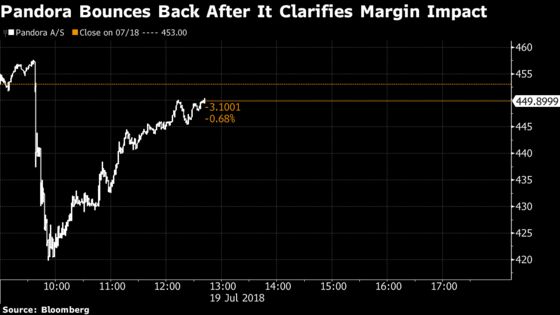 In a stock exchange statement earlier on Thursday, Pandora said it will cut retail prices on most products in China by about 15 percent to combat gray market trade and in an effort to "balance the retail price difference in the mainland Chinese market and other markets."
Analysts at Berenberg pointed out that it "has long been speculated" that Pandora would do something along these lines. Given the dynamic in that market, "the price cut in China was necessary and we view today's move as a step in the right direction as it ensures that brand equity is protected and hopefully the Chinese business will eventually pick up," the analysts said.
Oliver Sherman, an analyst at Northern Trust Capital Markets, described the decision by Pandora as "a positive development," in a note to clients. He also said that "the multi-year lows in the share price this month present a buying opportunity at present." The company's stock has lost about 34 percent this year.
The company, which says it produces more pieces of jewelry than any other manufacturer, said in May that unauthorized sellers are increasingly importing Pandora products from markets where they're cheaper, such as Australia, and then selling them in China. The company reported sales growth in the world's second-biggest economy of just 16 percent (in yuan terms) in the first quarter, down from 62 percent in the fourth quarter.
Chief Executive Officer Anders Colding Friis said at the time he would increase advertising spending in China to help boost sales. Pandora is due to report second-quarter results on Aug. 14.
Pandora has in recent quarters been under siege by hedge funds betting against the stock. More recently, though, short interest has receded and is now at about 9 percent of the share capital compared with an April peak of just over 12 percent, according to data compiled by IHS Markit. That's still significantly above the roughly 1 percent in short interest in Pandora shares back in early 2017.