Walmart's Fintech Partner Helps Break Paycheck-to-Paycheck Cycle
(Bloomberg) -- Walmart Inc.'s employees have adopted money-management tools from Even Responsible Finance Inc. at a faster pace than anticipated, prompting a fresh round of funding to expand the fintech startup.
More than 200,000 Walmart employees in the U.S. use Even's app to manage their finances or access their wages early, the Oakland-based startup said in a statement Thursday, and almost half of that group employs it every day. That's ahead of Even's projections, prompting interest from other big employers and leading to a $40 million funding round led by Khosla Ventures, the venture-capital firm that also backs grocery-delivery service Instacart and spacecraft maker Rocket Lab.
"We've been very surprised by the uptake -- we anticipated that we would get to 200,000 by the end of the year," Chief Executive Officer Jon Schlossberg said in an interview. "It's blown away what we expected in terms of engagement."
Walmart entered the partnership with Even and another fintech startup, PayActiv Inc., in December. The arrangement lets Walmart's about 1.5 million U.S. employees access earned wages ahead of scheduled paychecks, avoiding bounced checks or payday lenders.
About three out of four full-time workers live paycheck to paycheck, according to workplace site CareerBuilder, and studies from the Federal Reserve show a lack of emergency savings among many U.S. households.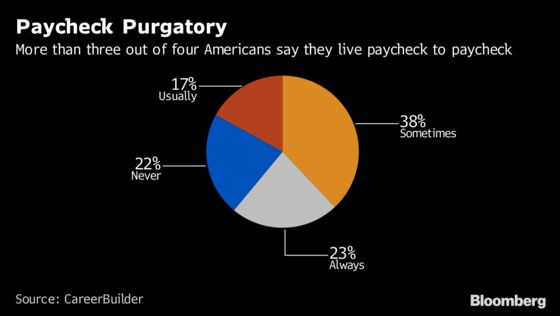 Daniel Eckert, Walmart's senior vice president of services and digital acceleration, said in the statement that the service is a "tremendous benefit" that helps set the employer apart.
Walmart's adoption of Even's financial app -- which connects directly to bank accounts and calculates imminent expenses to show users how much they're able to spend at any given moment -- has led to interest from other big companies who'd like to offer the service to their employees, said Schlossberg, who declined to name any. The inability to weather an unexpected car repair bill or medical expense can send a low-income worker into a debt spiral, and financially stressed workers can be less engaged and not as productive.
What's surprising about the Walmart engagement is that it's not just lower-paid hourly workers like cashiers who are using the money-management tools, Schlossberg said. Salaried employees adopt Even at a higher rate, he said. The typical Walmart worker checks his or her budget on Even four days a week.
Walmart subsidizes about 25 percent of Even's monthly subscription fee, which Schlossberg would not disclose. He said it's "cheaper than Netflix," which charges $14 a month for its premium service. The benefit is part of Walmart's broader push to improve pay and perks for its massive workforce, an effort that includes higher minimum wages, more generous parental leave, a college-tuition subsidy and a more relaxed employee dress code. Walmart has been fighting to improve its image in the U.S. after earlier coming under fire for its treatment of employees.
Schlossberg said he will use the funding to build out the company's 37-person workforce, with a focus on doubling its engineering staff, and open a new office on the East Coast to serve the app's nearly 300,000 total users. Even's product developers are working on a new service that will automatically divert small sums of money into a separate savings account to reach a preset goal.