Publicis Drags Media Stocks Down as Analysts See Industry Doubts
(Bloomberg) -- Publicis Groupe SA analysts said a surprise sales slump raises broader concerns about ad companies' structural issues and was likely due to a volatile U.S. health-care business and new data-protection regulations in Europe. MainFirst said that Publicis's growth target for 2020 may also now be in doubt.
The shares plunged as much as 10 percent, dragging down U.K. peer WPP Plc and making media shares the worst-performing group in the Stoxx 600. The results followed a weak release from U.S. rival Omnicom Group Inc. earlier this week, which also hit the broader sector.
In a signal of uncertainty before the earnings, options priced in higher volatility than usual, with an implied price move on the day at 5.1 percent, compared with a historical 2.2 percent average. Watch U.S. rivals Omnicom and Interpublic at the open.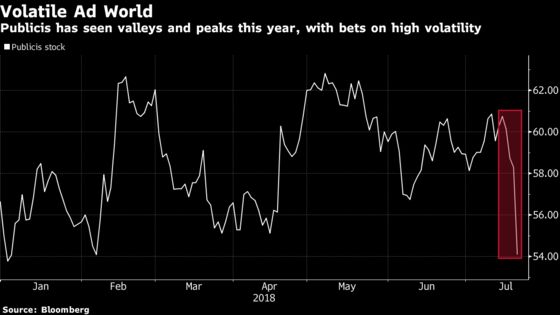 MainFirst, Jean-Baptiste Sergeant
(Rating underperform, price target 52 euros)
Growth "well below expectations" in another illustration of ad companies' structural issues.
2020 objective of 4% organic growth "seems less and less plausible" given poor current performance.
Organic growth acceleration above 2% in the second half of the year seems challenging but possible, given the ramp-up of the recent account wins. Even so, consensus expectations seem "clearly too high."
(Rating neutral, price target 67 euros)
Weak performance in Europe due to uncertainty around GDPR, which caused several client campaigns to be suspended, as well as operational difficulties in the health-care sector. North America weakness driven by Publicis Health.
Results to be taken negatively, given also the organic growth miss by Omnicom.
(Rating buy, price target 75 euros)
Organic growth miss will raise concerns over full-year guidance with more than 2% required in the second half of the year.
Beat on margins positive, driven by lower restructuring costs and cost savings.
(Rating buy, price target 65 euros)
The performance is "a bump in the road," says sentiment is likely to be weaker until there are signs of revenue momentum recovering in the second half of the year.
Publicis "significantly underperformed expectations," even taking into account the one-time issues at the healthcare unit. Whether these will truly be one-time items will also be questioned.
Results are "likely to raise questions again over secular issues," Liberum considers these concerns overdone and attributes weakness to cyclical, one-off issues, such as GDPR implementation.