MLP ETFs See Massive Trading as Regulators Propose Tax Allowance
(Bloomberg) -- An exchange-traded fund tracking master-limited partnership stocks saw an explosion of activity after after energy regulators released an order late Wednesday granting a "lifeline" to MLPs in the form of a tax allowance.
The $10 billion Alerian MLP ETF, known by its ticker AMLP, blasted out of the gates Thursday, trading nearly 4 million shares in the first 10 minutes of the session. Over the last 20 days, the fund's average daily volume in the first 10 minutes is 495,000 shares, according to Bloomberg data. The fund was up almost 3 percent as of 11:08 a.m. in New York.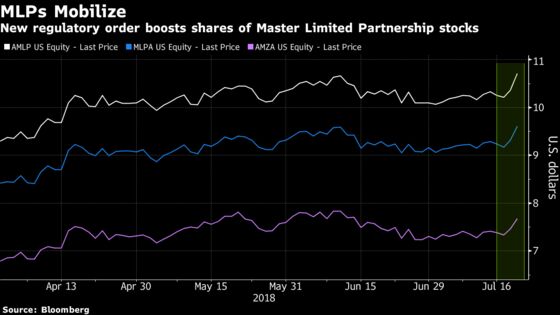 MLPs are structures that combine the fiscal benefits of a partnership, in which profits are only taxed when investors receive distributions, with the liquidity of a public company. The Federal Energy Regulatory Commission rule adjusts their tax treatment in ways that should help gas pipeline MLPs, Guggenheim Securities analyst Matthew Phillips wrote in a note.
"While FERC is not changing their MLP tax policy in substance, they made several important changes to the policy which we believe will offer master limited partnership structured pipeline companies a lifeline," Height Securities analyst Katie Bays wrote in a note to clients.
Other MLP funds are also climbing. Both the $895 million Global X MLP ETF, or MLPA, and the $650 million InfraCap Active MLP ETF, or AMZA, are up more than 2.5 percent Thursday.