Hedge Fund Investors Pull Money for First Time Since 2017
(Bloomberg) -- Investors pulled about $3 billion from hedge funds in the second quarter, the first quarterly outflow since early 2017.
Macro hedge funds led net outflows in the period, with $2.8 billion leaving the strategy, according to a report Thursday from Hedge Fund Research Inc. The outflows were offset by equity hedge funds, which saw inflows of $2.4 billion.
Investors are redeeming from funds that bet on economic trends as global trade tensions rise. By comparison, equity funds are benefiting as clients move toward strategies that are less sensitive to such macro events. Last year, the hedge fund industry attracted about $10 billion after redemptions of $70 billion in 2016, HFR data show.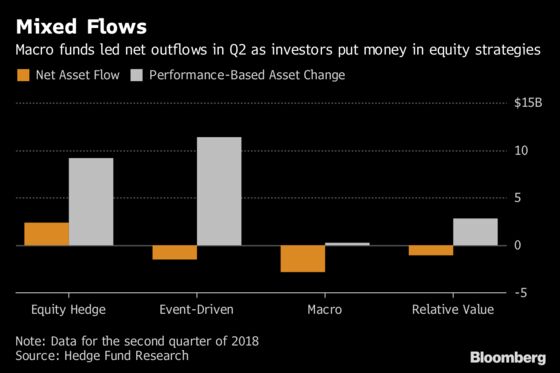 "Performance and capital flow trends shifted and evolved in 2Q18, as managers and investors adjusted to the impact of trade tariff financial market volatility and continued strong U.S. economic growth," HFR President Kenneth Heinz said in the report.
Total industry capital increased to a record $3.24 trillion globally in the quarter, with performance gains offsetting redemptions, HFR said. Hedge funds broadly returned 0.84 percent in the period.