China's Next Dollar Bond Should Be Cheaper Than S. Korea's: GAM
(Bloomberg) -- As China prepares for its second round of sovereign dollar-bond issuance after a 13-year absence, this time around the pricing may not be quite as rich as last October.
The upcoming $3 billion of securities, anticipated by year-end, should be priced appropriately if they reflect China's relative risk compared with peers as seen in the credit default swaps market, according to GAM International Management Ltd. That suggests a cheaper valuation than South Korea -- the reverse of how the $2 billion of Chinese dollar bonds priced at the sale in October. South Korea is also preparing an offshore bond issue.
"CDS can be a good guide when it comes to finding where the fair pricing should be," said Amy Kam, a London-based investment manager at fund manager GAM. "Right now the CDS differential between the two is about 20 basis points, which suggests that to me China should be priced 20 basis points wider to South Korea's given the same tenor," she said.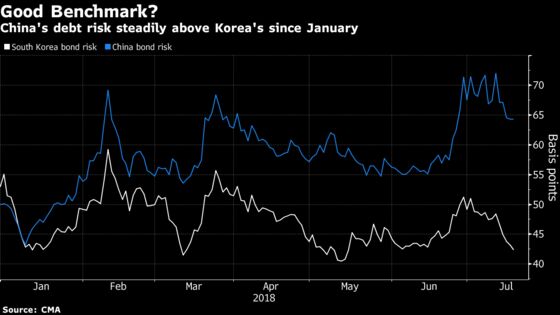 South Korean credit-default swaps were trading at about 42 basis points Wednesday, while China's were around 64 basis points, according to data provider CMA. South Korea's debt is rated Aa2 by Moody's Investors Service, two levels above China's. While Seoul hasn't announced the currency for the offshore sale it's mandated with banks, bankers expect it to be in U.S. dollars.
China's sale will build on its first sovereign dollar bonds since 2004. While the sale was intended to help provide a benchmark for Chinese state-owned companies, the fact that it priced so dearly meant that it didn't really serve that function, according to Kam. The rarity of the sovereign issue contributed to greater demand than seen for corporate or financial offerings.
"It subsequently became meaningless to serve as a benchmark for SOE bonds, given where China CDS trades versus regional peers such as Korea," said Kam. "China doesn't need to borrow in the hard currency bond market -- a small issue size will likely see over-subscription and thus a license to squeeze pricing. Though to serve a purpose of setting up a benchmark, I think it should be sold at a market-driven pricing."