Australian Jobs Growth Trounces Expectations as Workforce Swells
(Bloomberg) -- Australian employment surged by more than triple economists' estimates in June and workforce participation swelled, supporting the Reserve Bank's view that a stronger economy will spur hiring.
The economy added 50,900 positions, with the bulk of them full-time roles, the Australian Bureau of Statistics said Thursday. Yet the jobless rate -- the key metric for policy makers -- held at 5.4 percent as participation jumped to 65.7 percent from 65.5 percent.
The gain in employment "brings an end to the soft patch since January," said Paul Dales, chief economist for Australia at Capital Economics Ltd. "But at this stage, the unemployment rate isn't low enough to prompt the RBA to decide that interest rates need to rise soon."
The currency climbed to 74.25 U.S. cents at 12:44 p.m. in Sydney from 74 cents prior to the release.
A spurt of hiring absorbed by a burgeoning workforce is a reprise of 2017 when a red-hot labor market failed to substantially dent unemployment. The central bank tracks the jobless level rather than navigate through the volatile monthly jobs data. It's relying on a strengthening economy to soak up spare capacity in the labor market and drive up inflation to potentially clear the path for the first interest-rate hike in almost eight years.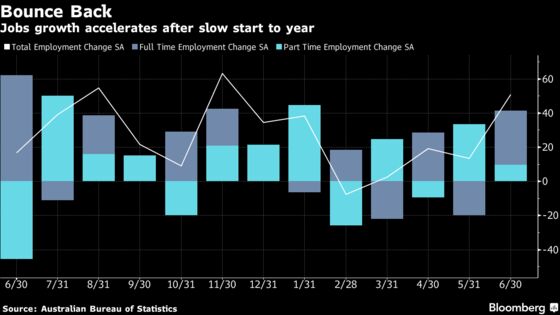 Today's data showed New South Wales, the nation's most populous state, led the hiring gains with 27,300 positions and also the advance in participation with a 0.2 percentage point rise. It was followed by the northeastern state of Queensland which added 14,800 positions.
Victoria, the second-largest state by population, posted the biggest decrease, shedding 6,600 positions as its unemployment rate climbed to 5.6 percent from 5.1 percent.
"Hourly wages are creeping higher, signaling a continuing improvement in the jobs market. But businesses are still keen to cut costs and boost shareholder value rather than pass on pay increases to workers," said Ryan Felsman, a senior economist at the securities unit of Commonwealth Bank of Australia.
"Overall, the labor market remains healthy," he said. "The proportion of Australians in work or looking for work remains near record highs."
The RBA estimated a jobless rate of about 5 percent represents full employment and should begin to spur wage gains. However, international experience suggests the level could be lower in the post-2008 global financial crisis environment.
Traders are pricing in little chance of a rate hike in the next 12 months and the central bank says it sees no near-term case for a policy adjustment.