Dollar, Bonds Plunge as Trump Turns Up Rhetoric: Markets Wrap
(Bloomberg) -- The dollar weakened the most since March, Treasuries tumbled and stocks closed mostly lower after President Donald Trump's latest verbal salvos fanned investor concern that a global trade war is escalating.
Financial markets were upended after Trump said he's "ready to go" with additional import tariffs and that China, the European Union and others have been manipulating their currencies and interest rates. Yields on Treasuries climbed the most since May as Trump reiterated that he's unhappy with the Federal Reserve tightening after the administration has worked so hard to grow the economy.
"We're in a world of firsts and tweeting about the Fed, not once, but twice, doubling down, that the president is trying to exert pressure," said Kim Forrest, senior portfolio manager at Fort Pitt Capital Group LLC in Pittsburgh. "Crazy times we live in, I love it. You never know what's going to happen. This is supposed to be the sleepy time. We're supposed to be looking at earnings, which are killing it by the way."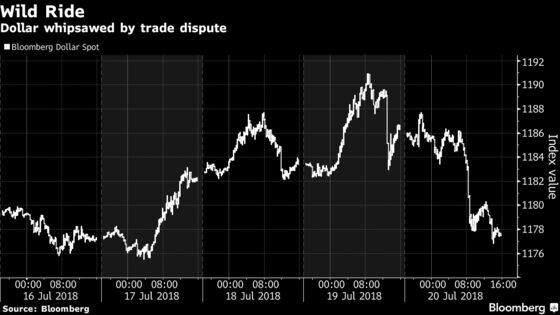 Trump's latest move in the trade war with China came as investors try to gauge the ability of the Asian nation's economy -- the world's second-biggest -- to withstand a protectionist showdown. The yuan may be a key tool in China's response to Trump, who continues to express dissatisfaction with America's own monetary policy as his country's currency strengthens.
Oil posted its third consecutive weekly loss amid concern the escalating trade rows will undercut energy demand, undermining reassurances from Saudi Arabia that it won't flood global crude markets.
Copper rose for the first day this week after the yuan steadied amid signs that domestic banks are taking steps to support the currency. Most metals were supported on the London Metal Exchange as the dollar weakened for the first time in four days. The gains in metals capped a turbulent week across the industry as traders extended a month long selloff kicked off by fears that the trade tensions between China and the U.S. will hurt demand for industrial materials.
Terminal users can follow our Markets Live blog here.
These are the main moves in markets:
The S&P 500 Index slipped less than 0.1 percent to 2,801.83 as of 4:08 p.m. in New York.
The Dow Jones Industrial Average dropped less than 0.1 percent to 25,058.12.
The Nasdaq Composite Index eased less than 0.1 percent to 7,820.20.
The U.K.'s FTSE 100 Index was little changed.
The MSCI Emerging Market Index gained 1.1 percent.
The Stoxx Europe 600 Index fell 0.2 percent.
The Bloomberg Dollar Spot Index slumped 0.76 percent, the most since March 21.
The euro increased 0.8 percent to $1.1729.
The British pound strengthened 0.9 percent to $1.3136.
The Japanese yen gained 0.9 percent to 111.51 per dollar.
South Africa's rand gained 1 percent to 13.41 per dollar.
The yield on 10-year Treasuries rose six basis points to 2.89 percent, the most since May 30.
Italian 10-year yields increased eight basis points to 2.59 percent.
Germany's 10-year yield rose four basis points to 0.37 percent.
West Texas Intermediate crude rose for a fifth day, climbing 1 percent to $70.46 a barrel.
Gold increased for the first time in six trading sessions, climbing 0.6 percent to $1,230.21 an ounce.