Trade War Just Noise and Asia Stocks Cheap to JPMorgan Asset
(Bloomberg) -- Cancel out the trade-war noise and there's still plenty to be optimistic about on Asian stocks as valuations are now "very reasonable," according to J.P. Morgan Asset Management.
A full-blown trade conflict is unlikely and the global economic cycle still appears normal, Richard Titherington, who oversees $123 billion as the chief investment officer for emerging markets Asia Pacific, said in an email interview. Given its exposure to the global economy, South Korea has become particularly cheap on the back of the trade war, while Singapore is "oversold" and the city-state's banks look attractive, he said.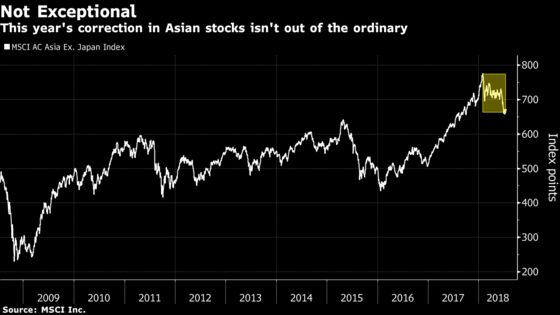 "It is true that a number of headwinds have appeared," Titherington wrote. "It is precisely in times like these that it's important to keep a clear head and retain a disciplined focus on the fundamentals."
While the MSCI Asia ex-Japan Index of equities has dropped about 14 percent from a peak in late January amid a rising dollar and U.S. interest rates and as trade tension escalated, J.P. Morgan Asset still sees earnings growth for the region at around 14 percent this year. Asian markets have tended to perform well in previous U.S. tightening cycles, he said. The firm's optimistic view contrasts with UBS Group AG and Citigroup Inc., which have just cut their year-end targets for the gauge by 11 percent and 19 percent, respectively.
South Korea's Kospi index is now trading at a 12-month price-to-earnings ratio of 8.6, less than the average of 10.1 over the past five years. The similar ratio for Singapore's Straits Times Index is 12.4, down from as high as 14.6 about a year ago.
Mirae Asset Global Investments's Rahul Chadha agrees with Titherington that valuations in Asian equities have become attractive.
"We're still hopeful that this trade war doesn't deepen," the Hong Kong-based chief investment officer said in an interview with Bloomberg TV's Rishaad Salamat. "There are pockets of opportunity, particularly in China."
The continued opening up of China's A-shares and the exposure to growth they provide offer opportunities, Titherington said.
This year's stocks correction isn't out of the ordinary based on recent history and the current dollar strength is a bounce amid a longer-term downtrend rather than anything more structural, he said. The trade conflict will also be contained because American consumers won't welcome higher prices for imported goods, Titherington said.
"That is not to say that equities cannot correct further: but markets currently are presenting opportunities to buy some excellent franchises at attractive valuations," Titherington said. "Beyond the current cycle, the longer-term story of a structural shift towards higher quality corporate earnings growth is intact."