These Are the Hottest U.K. Stocks as Britons Bask in a Heatwave
(Bloomberg) -- Britons have enjoyed the longest heatwave in five years, and some U.K. stocks are set for a summer bonanza.
As temperatures neared record highs, non-essential spending jumped 5.5 percent during the five weeks to June 23, the biggest year-on-year gain since October 2016, according to analysts at Barclays Plc.
The bank notes a 16 percent rise in spending on amusement park visits and a 10 percent jump in splashing out at the garden centre. Even cinemas and theaters are getting a lift from more Brits getting out of the house, with Barclays noting a 20 percent rise in spending during the period.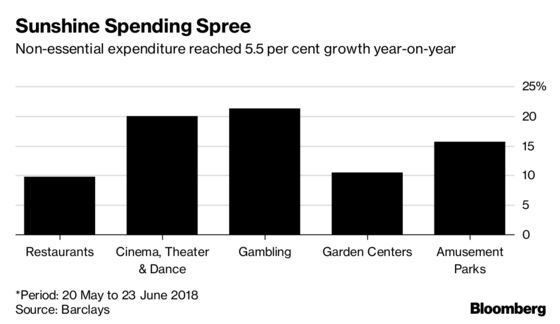 The recent 16-day streak when temperatures exceeded 28 degrees Celsius (82 Fahrenheit) also boosted spending on groceries at local shops -- sales rose 8 percent in the week ending June 30 as barbecues were lit across the country, dropping to a stable 5 percent the week after, according to data from market research firm Nielsen. While that temperature may not raise eyebrows in many places in the U.S., air conditioning is far less common in in the U.K.
"Convenience stores are frequented more often during warm weather as consumers look to purchase easy and quick-prep foods to avoid further time spent in the kitchen," Mike Watkins, Nielsen's head of retail insight, said in an emailed comment.
Here's a look at some stocks that stand to gain from the heatwave:
Sainsbury Plc isn't just selling burger patties and corn on the cob -- its Argos unit stands to gain from increased spending on garden furniture and other equipment for the cookout, according to CMC Markets analyst David Madden, who spoke by phone. The online retailer said it sold 154,000 paddling pools during the last week of June, its biggest weekly haul ever, while sales of gazebos and sun loungers were up three-to-fivefold from a year earlier.
Irish construction material supplier Grafton Group Plc said July 11 that the recent hot weather has benefited sales. The boost was probably driven by sales in barbecue and horticultural products at Grafton's Woodies stores, Lush Mahendrarajah, an analyst at Berenberg, said by phone.
Kingfisher Plc capitalized on a comparable heatwave five years ago, with its shares jumping 16 percent in July 2013. It should do well again this time, according to Accendo Markets analyst Mike Van Dulken, as the hot weather means "there's no excuse not to do that DIY task." Screwfix, one of many DIY stores operated by Kingfisher, is "the one to really keep an eye on," Van Dulken said by phone.
Between the World Cup and the heatwave, Britons are drinking more beer. "It could be that pubs end up being the real winners, says van Dulken. JD Wetherspoon Plc reported a 5.2 percent jump in like-for-like sales for the 10 weeks to July 8 on Wednesday.
Drink-focused businesses do better in heatwaves than those focusing on food, according to Berenberg analyst Owen Shirley, who spoke by phone. U.K. pubs that show sport have also had a boost from the English soccer team's unexpected progression to the World Cup semi-final.
Like-for-like sales in managed pub and bar groups climbed 2.8 percent in June from a year earlier, while restaurant groups saw a drop of 1.8 percent in trade, according to figures published Monday in the Coffer Peach Business Tracker, a benchmark that tracks industry sales from 45 companies in the U.K.
Theme park operators like Merlin Entertainments Plc, which owns Legoland and Alton Towers, will benefit not just from the heat but also the number of days without rain, which is a significant factor for the attractions, says Berenberg's Shirley.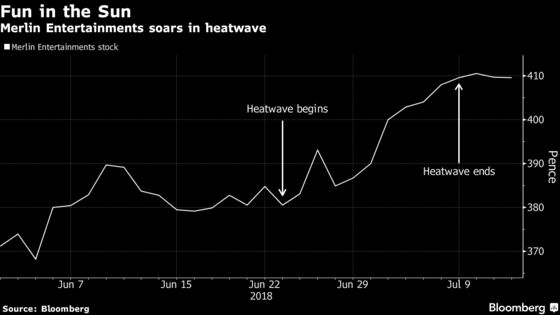 But while some enjoy the heat, others burn. Here are some potential losers:
When temperatures at home are almost as high as continental Europe, Brits go abroad less. That means companies like Thomas Cook Group Plc and TUI AG could see weaker demand for overseas trips, Morgan Stanley analysts including Jamie Rollo wrote in a note to clients on July 11. "We have spoken to a number of tour operators and travel agents in recent days, and the consensus is that overseas holiday bookings have been weakening," the analysts said.
Indoor furniture retailers have also lost out, as people prioritize the garden. DFS Furniture Plc now expects full-year earnings before interest, taxes, depreciation and amortization to be below last year. "Exceptionally hot weather, including over key trading weekends, has led to significantly lower-than-expected order intake," it said July 12. Peer Dunelm Group Plc also reported recent "disappointing footfall."
Those praying for rain may get their wish, with the weather set to get cooler and cloudier as the week progresses, according to the U.K. Met Office.