Tech 'Euphoria' Could Permanently Damage Returns, Smead Says
(Bloomberg) -- Participating in the "financial euphoria episode" that has taken hold of technology and growth stocks this year could "permanently damage" investors' long-term success, Smead Capital Management warns in its quarterly shareholder letter.
The Seattle-based fund company, which managed about $2.2 billion as of June 30, is steering away from major tech darlings, even though that's hurting returns, portfolio managers William Smead, Tony Scherrer and Cole Smead wrote in the letter. One of their major criticisms is that companies aren't transparent enough with their financials. They offer a recent Amazon.com Inc. investor event as an example. Of the 30 questions asked, "the answer to half of them was 'we don't disclose that,' " they wrote.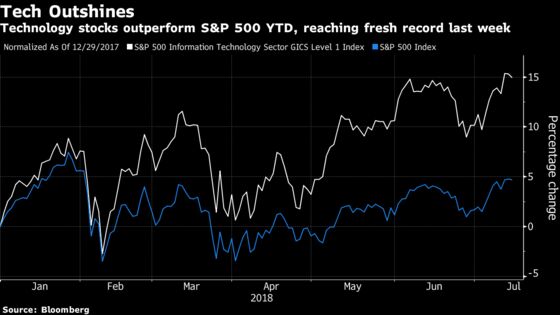 Facebook Inc. and Alphabet Inc. will become regulated businesses like AT&T Inc., broadcast networks and railroads, the money managers forecast. "Our assumption is that a Teddy Roosevelt-like character will emerge politically out of one of the two major parties," they wrote.
The firm likes Target Corp. and Kroger Co., and added Walgreens Boots Alliance Inc. on the selloff sparked by Amazon's entry in the pharmaceutical space. Amgen Inc., which was one of the top contributors to the Smead Value Fund's 2.3 percent gain in the second quarter, may have "the most important new drugs on the market today," with Repatha for lowering cholesterol and Kyprolis for multiple myeloma.
Outside the health-care space, Smead Capital boosted its position in Discovery Inc., the fund's top holding, according to a filing.