Netflix Options Suggest Shares May Hit Record If Results Impress
The options imply an 8.7 percent move around the results, according to data compiled by Bloomberg. While that's less than the historical average move of 13.3 percent, a gain of that amount would be enough to send shares of Netflix above their previous intraday high of $423.21, set on June 21. An 8.7 percent move to the downside would leave the stock around $363, its lowest in about a month.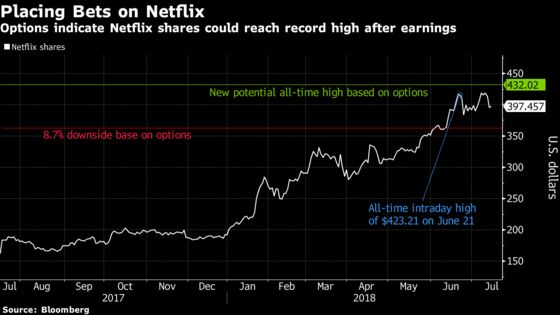 Options investors have become more bullish over the past 25 days when taken at face value. Since June 20, total call open interest has increased 26 percent while put open interest has risen by 10 percent. The one-day move implied by options trading is derived from the at-the-money straddle expiring on July 20. The most widely held July 20 options are the $360 calls and puts that showed open interest of about 15,900 and 14,000, respectively. Options prices are as of July 13.
Concerns about subscriber growth and valuation have left many Wall Street analysts more skeptical. Just this morning, Buckingham Research Group cut its rating to underperform from neutral and Citigroup told clients that the near-term setup for Netflix into earnings may not be favorable. Meanwhile, Raymond James said in a research note that the "shares can still work," despite increased scrutiny around the results.