Netflix Earnings Plunge Tests Tech Bulls' Nerves
(Bloomberg) -- You may have heard by now that expectations are high. The question for stock investors when it comes to second-quarter earnings is whether they have come completely untethered from reality.
And while it's too early for a definitive answer, early evidence isn't instilling confidence. Netflix Inc., the poster child for high hopes after its stock doubled over six months, plunged Tuesday after reporting disappointing subscriber growth. Its drop resonated among tech megacaps, pushing an exchange-traded fund tracking the Nasdaq 100 index down as much as 1 percent.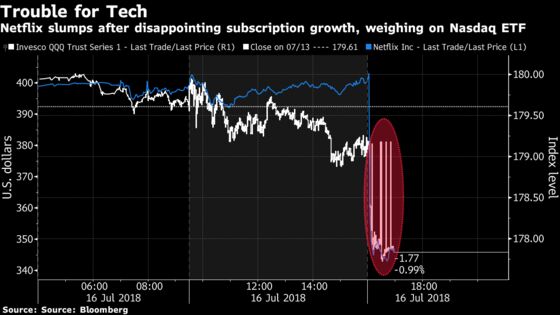 Results haven't been awful -- Netflix actually beat profit estimates and reaffirmed its forecast for full-year cash flow. And yesterday, Bank of America rose the most since March after reporting the highest earnings in eight years at its consumer unit. But particularly for tech stocks, many of which have gained 10 percent or more in 2018, not awful is not enough.
"The market maybe thinks if it happens to Netflix, it could happen to the others," said Gary Bradshaw, a portfolio manager at Hodges Capital Management in Dallas. "But we'll have to see. I'm not sweating my holdings because of Netflix."
Netflix was down 12.5 percent at $350.50 as of 7:53 a.m. In sympathy, Facebook Inc. slipped 0.9 percent, Alphabet fell 0.8 percent, Apple lost 0.4 percent and Amazon.com fell 0.3 percent. Losses were contained in the broader market, with the S&P 500 ETF down 0.2 percent.
S&P 500 companies are estimated to have earned $39.18 a share in the second quarter, up 20 percent from a year ago. For technology stocks the bar is higher. The group's 31 percent expected growth rate is third highest out of 11 industries, behind energy producers and raw-materials suppliers.
So far, tech is having the worst time of the young reporting season. On average, shares in the industry fell 3.4 percent on the first day post earnings -- despite better-than-expected profits. That compared with a gain of 0.6 percent for S&P 500 companies that have announced results, data compiled by Bloomberg show. Only about 30 companies have reported to date, six of them in tech.
Netflix said it added 5.2 million users in the second quarter, about a million fewer than the company predicted. The world's largest paid online TV network expects to add 5 million customers, a slower pace than a year earlier.
"It's not the earnings that matter, or even the reaction to earnings," Jonathan Krinsky, Bay Crest Partners chief market technician, wrote in a note before Netflix's results. "It's the 'reaction to the reaction. In other words, expectations are high, and stocks largely reflect that coming into the numbers. So we will be watching to see how they react to those 'good numbers."'
A scenario equity bulls have dreaded is a repeat of the first-quarter reporting season, when virtually no number was enough to move the needle in Nasdaq stocks that had risen 30 percent or more in 2017. Netflix was more vulnerable than others to disappointment, with its previously $400 stock up more than 100 percent before today.
"Technology continues to be the most crowded sector," Ann Larson, a quantitative analyst Bernstein, wrote in a note to clients. "Crowded trades are typically already priced for perfection, and as such the stocks don't react much to incremental positive news, while negative news has a much more pronounced effect."