JPMorgan Ups Its ETF Game With Cheap Funds Luring Investors
(Bloomberg) -- JPMorgan Chase & Co. is finally gaining ground in the competitive ETF landscape with its BetaBuilder brand.
On Friday, two of the lender's exchange-traded funds -- the JPMorgan BetaBuilders Japan ETF, or BBJP, and the JPMorgan BetaBuilders Europe ETF, or BBEU -- saw strong inflows last week after stagnating since their inception last month. The Japan fund took in $654 million, while the Europe one absorbed $187 million over the five days ended July 13, both of which are records, albeit over a very short time frame.
JPMorgan launched its BetaBuilder ETFs on June 18, bringing out three portfolios designed to compete with BlackRock Inc. and Vanguard Group Inc. The lender came in cheap, charging 30 basis points less for BBJP than the iShares MSCI Japan ETF and 51 basis points less for BBEU than the iShares Europe ETF. The funds are roughly the same price as similar offerings from Vanguard.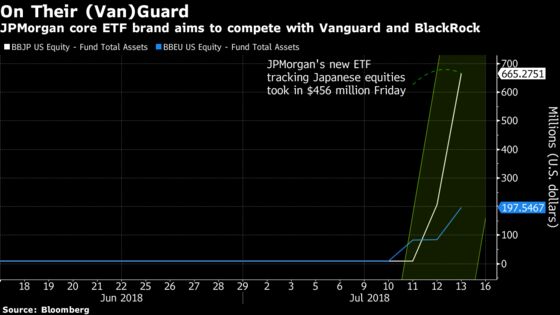 "You have to rip the Band-Aid off and play the fee-war game, because investors demand things cheap," said Bloomberg Intelligence analyst Eric Balchunas.
In February, market rumors suggested that JPMorgan was looking to buy an ETF business that would boost its presence in the $3.5 trillion market. But with BetaBuilders it's now growing fast despite the competitive hurdles banks typically face when going up against major money managers' core products.
If the $665 million BBJP "takes in another $350 million between now and the end of summer, it will beat Bill Gross's fund as the second-fastest ETF to hit $1 billion," Balchunas said. The PIMCO Active Bond Exchange-Traded Fund, known by its ticker BOND, now has $2.1 billion in assets.
Still, despite the inflows, Vanguard and BlackRock's funds tracking European and Japanese equities are behemoths with more than $37 billion in combined ETF assets. So JPMorgan has a lot of catching up to do, and the low-cost route will probably remain its best way in. When it comes to building an ETF business, that often is the only solution.
As for last week's activity, it's likely that the shares created on Friday, when the Japan ETF had $456 million of inflows and the Europe fund received $113 million in new capital, were for one investor, according to Josh Lukeman, head of ETF market making for the Americas at Credit Suisse Group AG.
"It's not too uncommon for an issuer to design a product around an idea or request from a very large client," he said.