Johannesburg Stocks Are Taking a Knock as the Rand Strengthens
(Bloomberg) -- It's been a tough month for South Africa stocks.
The rand's gain has sent traders spilling out of shares of companies that generate dollar earnings, which make up almost a third of the benchmark FTSE/JSE Africa All-Share Index. In addition, foreign investors have cut holdings of South African equities amid a sell-off of emerging-market assets triggered by rising U.S. Treasury rates and escalating trade tensions between Washington and Beijing.
"Rand-hedges are under some pressure now," said Peter Takaendesa, a portfolio manager at Cape Town-based Mergence Investment Managers. "South African shares as a whole haven't been immune to the general risk-off in emerging-market stocks."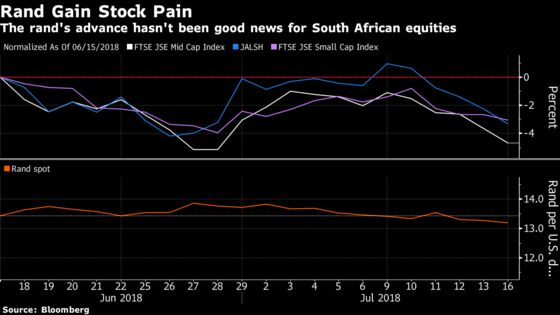 The benchmark gauge is down 3.1 percent since June 15, with mining companies including Sibanye Gold Ltd. and Impala Platinum Holdings Ltd. among the worst performers as the rand gained 1.8 percent against the dollar.
In that period, foreigners were net sellers of South African equities for 12 days out of 21, cutting inflows this year to 14.4 billion rand ($1.1 billion).