China Hedge Fund Doubles Down as Market Selloff Deepens Losses
(Bloomberg) -- One China hedge fund is adding to stocks in the nation even as a rout deepened losses in its portfolio and prompted some peers to duck for cover.
Springs China Opportunities Fund is using the "panic selloff" to increase its holdings of "oversold and undervalued" companies, it told investors in a letter seen by Bloomberg News. The letter was sent after the fund lost an estimated 17 percent this year through July 6.
The Shanghai Composite Index has dropped as much as 12 percent since the end of May, as the trade spat with the U.S. escalated into tit-for-tat tariffs and China's crackdown on shadow banking led to record defaults and higher borrowing costs. Chinese stock indexes are among the worst-performing major global gauges tracked by Bloomberg this year.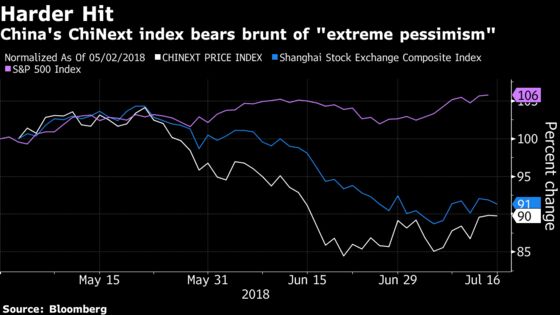 "As a contrarian investor, our portfolio has been gradually shifting to underappreciated assets since late of last year, which tended to be more vulnerable to the extreme pessimism," Sidney Ma, director in charge of investor relations at Springs Capital (Hong Kong), wrote in the letter. "We will bear the short-term volatility to get a long-term alpha in return," he said, adding the fund is buying beaten-down stocks that may return 50 percent in two years and 100 percent in three years.
At the time of the letter, its losses had been exacerbated by a stock slide that accelerated in the first days of July. The firm, which shifted toward smaller growth stocks, said it later narrowed declines to under 14 percent for this year through July 13. The market slide resumed Monday after data indicated a slowdown in China's economy in the second quarter.
Many investors have been retreating as China's stocks have tumbled. Morgan Stanley's Asia hedge fund clients cut their net leverage by about 25 percentage points from multiyear highs in January to 45 percent, the New York-based bank's prime brokers wrote in a July 3 note. Managers including Singapore-based FengHe Fund Management have cut allocations to Chinese stocks while Kingsmead Asset Management, another Singapore-based firm, now shuns stocks in the world's second-largest economy.
Still, some investors are spotting opportunities. China's sovereign wealth fund is seeking permission to invest in domestic stocks for the first time, people familiar with the matter said. China equity funds attracted fresh money for the week ending July 4, the 15th consecutive week of net deposits, according to EPFR Global.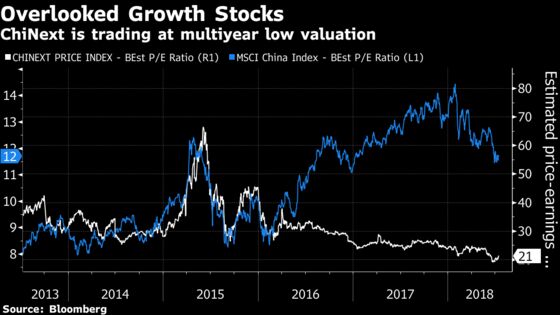 Springs Capital (Hong Kong) had regulatory assets of just over $3 billion late last year, a number that includes bullish and bearish bets, leverage and proprietary assets, according to an April 27 regulatory filing. While most funds targeting international investors restrict themselves to Hong Kong and U.S.-listed Chinese stocks, Springs has an offshore fund that invests primarily in yuan-denominated shares traded in Shanghai and Shenzhen.
It has stood firm in the face of market turmoil in the past. While China's introduction of an index circuit breaker gave the fund its largest single-month loss of 23 percent in January 2016, it returned an annualized 16 percent from its September 2007 inception to the end of May, according to its May newsletter. The Shanghai Composite Index lost an annualized 3.1 percent in the same period.
The Springs fund has shifted from large industry leaders to small- and medium-sized growth stocks that are part of the ChiNext and CSI 1000 indexes, believing big health care and consumer companies have become "extremely crowded" trades over the past two years. By contrast, ChiNext and CSI 1000 indexes are valued at multiyear lows, Ma wrote in the letter.