BlackRock Sees Outflows From Equity Products
(Bloomberg) -- BlackRock Inc. saw outflows from equity products in the second quarter and slower inflows into its exchange-traded funds as investors reacted to market uncertainty.
Clients pulled $22.4 billion from BlackRock's equity products in the period, according to a statement Monday. Inflows into its iShares products totaled $17.8 billion, the lowest since the second quarter of 2016. BlackRock is the world's largest issuer of ETFs, with $1.8 trillion in assets under management for those products.
"Despite an industry-wide slowdown in flows associated with investor uncertainty in the current market environment, our dialogue with clients and opportunities to provide long-term solutions are more robust than ever before," BlackRock Chief Executive Officer Larry Fink said in the statement.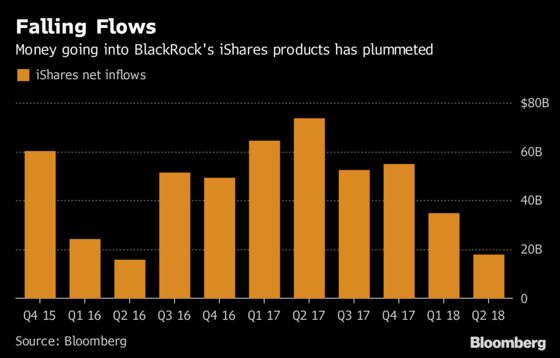 Even as investors appeared skittish, overall the world's largest asset manager reported net total net inflows of $20 billion in the period. Its overall results were positive with revenue gaining 11 percent year-over-year. Adjusted second-quarter earnings came in at $6.66 per share, topping analyst estimates of $6.55 per share.
The New York-based firm's total assets under management were about flat $6.3 trillion at the end of the second quarter.