Another Volatility-Linked Exchange-Traded Product Bites the Dust
(Bloomberg) -- Another volatility-linked product is heading for the exits -- without the same fireworks that felled similar funds in February.
The REX VolMAXX Long VIX Futures Strategy ETF (VMAX), which enabled investors to bet on a rise in implied equity volatility, will be liquidated later this month, according to a press release on July 13 from Exchange Traded Concepts, LLC, its investment adviser.
The fund will begin converting its assets to cash on Monday, and its last day of trading will be July 24.
VMAX was up 50 percent year to date, but had less than $3 million in assets at the close of trading Friday, according to data compiled by Bloomberg. That pales in comparison to the more than over $750 million in assets for the iPath S&P 500 VIX Short-Term Futures exchange-traded note (VXX).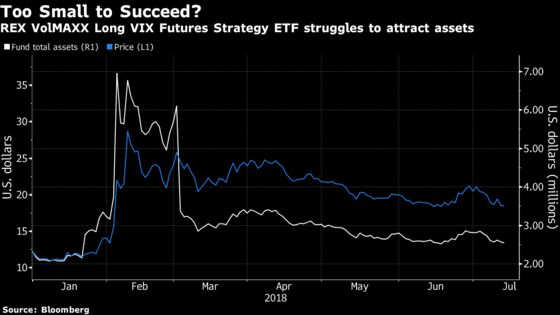 A message left with exchange-traded fund provider Rex Shares, the company behind VMAX, was not immediately returned.
The shuttering comes months after a series of moves that made a suite of volatility-linked exchange-traded products less volatile. On Feb 23, REX Shares announced that its products -- VMAX and VMIN -- would soon invest primarily in VIX contracts further out on the future curve, which tend to swing less than their front-month counterparts. Days later, ProShares moved to reduce the leverage on its Short VIX Short-Term Futures (SVXY) and Ultra VIX Short-Term Futures (UVXY) exchange traded funds, a shift that caused headaches for options holders.
These funds employed a more conservative strategy in the wake of the record one-day spike in the Cboe Volatility Index on Feb. 5, which led to closure of several similar products. Thus, VMAX's closure could signal that investors betting on volatility's ebbs and flows might be once bitten, twice shy, or that the remaining retail players in the space don't have the patience for neutered products.
The VelocityShares Daily Inverse VIX Short-Term exchange-traded note (XIV), the biggest product allowing investors to bet on enduring market calm, lost nearly all of its value on Feb. 5 and Credit Suisse announced plans to liquidate the note the following day. Nomura, for its part, apologized to investors for the early redemption of its Next Notes S&P 500 VIX Short-Term Futures Inverse Daily Excess Return Index ETN due to the market chaos.
The immense popularity of these products served to exacerbate the downside for U.S. stocks in February, according to some analysts, as short-volatility bets were unwound.