Trump's Tax Plan Has Investors Chasing Dividends Through ETFs
(Bloomberg) -- A handful of dividend ETFs may owe President Donald Trump a thank you note.
The iShares Core Dividend Growth ETF (ticker DGRO), Schwab U.S. Dividend Equity ETF (SCHD) and Vanguard Dividend Appreciation ETF (VIG) have absorbed more than $2 billion combined this year. Meanwhile, the iShares Select Dividend ETF (DVY), SPDR S&P Dividend ETF (SDY) and iShares Core High Dividend ETF (HDV), have seen $2.3 billion of outflows.
What's driving the change? Possibly dividends that companies will pay with cash repatriated from overseas under Trump's tax plan. The funds that are seeing inflows largely steer clear of sectors like utilities, which are more domestically focused and less likely to benefit from the repatriation. In contrast, the ETFs seeing outflows have higher allocations to those sectors.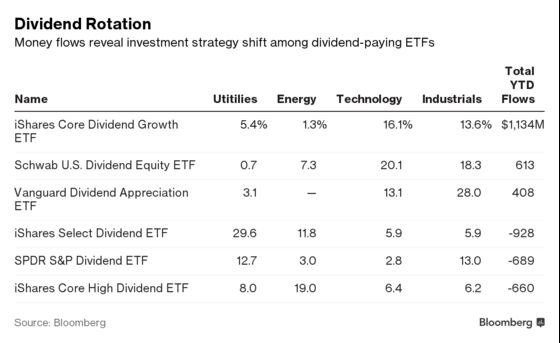 Utilities offer among the highest dividend yields in the S&P 500 Index. But the promise of larger cash distributions from technology companies is luring investors to those funds. In the third quarter, Bloomberg predicts tech firms will distribute about $20 billion in dividends to shareholders.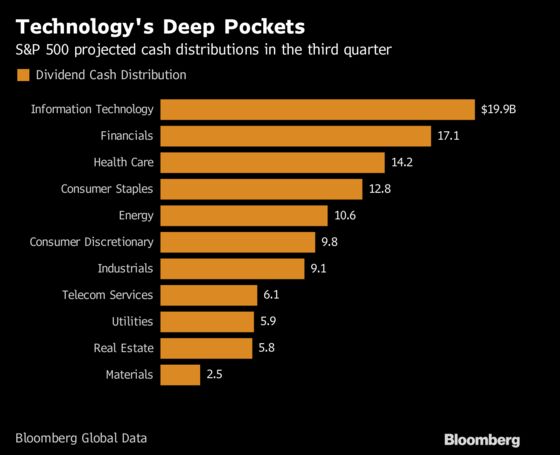 "Investors are moving money into dividend funds that stand to gain from cash repatriation," said Todd Rosenbluth, director of ETF and mutual fund research at CFRA Research.
The prospect of high cash distributions is supporting these funds even though short-term Treasuries are offering more than the dividend yield on U.S. stocks for the first time in a decade.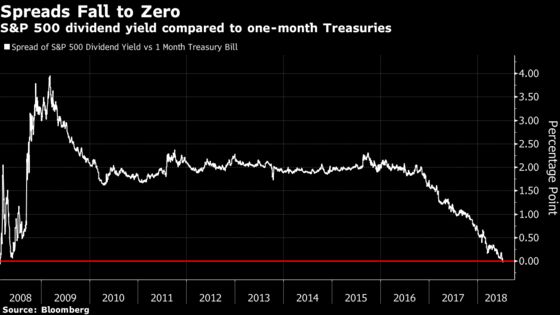 Of course, cost may also be a factor in the fee obsessed world of ETF investing. Two of the funds that have seen large outflows charge more than $3 for every $1,000 invested, while the three funds seeing inflows cost 70 cents or 80 cents for the same investment.