Fake Friends? Traders Buy the Weak Glow of Putin-Trump Talks
(Bloomberg) -- Good news is scarce for emerging-market investors and some are seizing on the faint promise of a thaw offered by Monday's meeting between Russian President Vladimir Putin and his U.S. counterpart, Donald Trump.
Few expect a major breakthrough after the U.S. imposed its toughest sanctions to date in April as punishment for Moscow's alleged elections meddling. But money managers from Swedbank Robur and EI Sturdza Investment Funds say the fact that the summit is happening at all is reason enough to buy Russian stocks and bonds.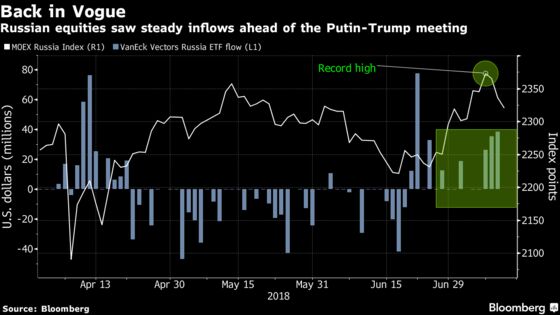 It's not just Trump's acknowledgment of Putin on the world stage that's boosting Russian assets. The economy has been buoyed by rising oil prices, while escalating political risks in Turkey, Brazil and Poland are pushing investors to hunt for alternatives.
"I'm not expecting much from this meeting, but the fact that it'll take place creates positive sentiment and an excuse to buy Russian assets," said Elena Loven, a Stockholm-based fund manager at Swedbank Robur. "Stocks look solid in comparison with Poland and Turkey so we've been switching into Russian equities."
The biggest exchange-traded fund focused on Russian stocks, the VanEck Vectors Russia ETF, added about $100 million this week and the nation's equity index reached a record high. Credit-default swaps dropped to the lowest level since the April sanctions, while local government bonds have handed investors a 2.2 percent return in dollars this month, compared with a loss of almost 10 percent for Turkey.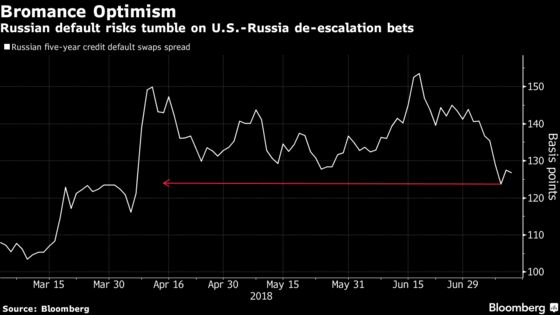 Kremlin officials are said to be in intense talks with their counterparts in Washington to strike at least one deal that would allow Trump to declare the meeting in Helsinki a success. While Trump has declined to brand Putin friend or foe ahead of their meeting, he reiterated on Friday that he'll raise the question of attempted meddling in the U.S. elections.
"For the world to see Putin and Trump shaking hands and simulating close friendship may well improve sentiment towards Russian assets and lower perceptions of their risk premium," said Julian Rimmer, a trader in London at Investec Bank Plc. "The summit should provide a modest boost to trading sentiment, but I doubt any significant agreements are made or that the various Russo-American disputes will be resolved because they are longstanding and complex."
Investors may even take profit on Russian shares after the meeting because "the positive factors will be over," according to Robur's Loven.
Citigroup Inc. analysts are optimistic: they predict a Syria deal on counter-terrorism cooperation, expanding the cease-fire and the removal of foreign forces.
"We believe the planned 16 July Trump-Putin summit could boost the likelihood of sanctions de-escalation," Citi analysts including Barry Ehrlich said in a note dated July 5. Russian stocks that could benefit the most from improved relations are Russia's biggest lender, Sberbank PJSC, and it's largest miner, MMC Norilsk Nickel PJSC, according to Citi.
Shares of both companies climbed for a second day on Friday, helping lift the benchmark MOEX Russia Index 0.7 percent, its first gain in four days. Ten-year ruble bonds have advanced every day this week with yields set for a 16 basis-point drop, the biggest decline since April.
Eric Vanraes, who oversees a bond fund from Geneva for EI Sturdza, which has about $3 billion under management, said his company reinvested in Russian debt last week after a pause, buying Eurobonds of Gazprom PJSC, Russia's natural-gas giant.
"I don't expect anything from this kind of meeting, but the mood of investors has changed," Vanraes said. "It's the first step in rebuilding significant investments in Russian assets."