Never Mind the VIX, Anxiety Is Everywhere in U.S. Stock Market
(Bloomberg) -- The Nasdaq 100 is at a record, stocks have just strung together two straight weeks of gains and one of the best earnings seasons in a decade is at hand. Bears vanquished? Not entirely.
While benchmark measures of volatility are as calm as they've been in five months, among individual stocks anxiety is running high. It's showing up in indicators that plot bearish and bullish options, in a lingering preference for defensive industries and the refusal of hedge funds to commit new money.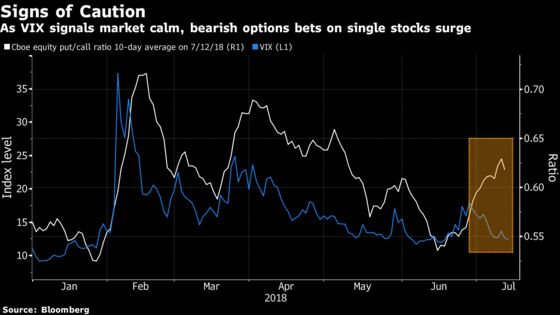 Blame it on a global trade war where President Donald Trump just threatened duties on another $200 billion of Chinese goods. Or fear over a repeat of April when a 24 percent surge in corporate profits did nothing to lift the market. Friday's drop in financial shares did little to calm nerves as Citigroup and Wells Fargo kicked off the reporting season with disappointing results.
"You have these two forces pushing against each other, strong economic fundamentals and a volatile news cycle, with talks of trade wars," said Todd Fungard, who oversees $1.2 billion as chief investment officer of McQueen, Ball & Associates Inc. "The market is up, which is reflecting the fundamentals, but the defensive posture is reflecting people's caution."
The S&P 500 Index rose 1.5 percent over five days, finally overcoming 2,800 after three futile attempts since February. The Dow Jones Industrial Average climbed 2.3 percent for the biggest jump since early June. The Cboe Volatility Index, the gauge of S&P 500 options costs also known as VIX, dropped for a second week to 12.18.
Stocks are hobbling along; options traders worry they'll fall. The Cboe put-to-call ratio for equities, tracking volume in bearish versus bullish bets, averaged 0.6 in the 10 days through Wednesday, the highest since early May. The ProShares Ultra VIX Short-Term Futures ETF, which rises when volatility goes up, has attracted $230 million of new money this month, doubling its assets.
Most of the nervousness is being felt in individual stocks and enough industries are doing well that the effect is masked when you look at indexes, said Victor Lin, a Credit Suisse strategist. A lack of lockstep moves has been one of the market's signature qualities for the last few months, pushing correlation to a five-month low.
Maybe it's a cause, or maybe it's a consequence, but exchange-traded fund volume fell to 24 percent of the market's total value traded in June, down from more than 30 percent in the first quarter.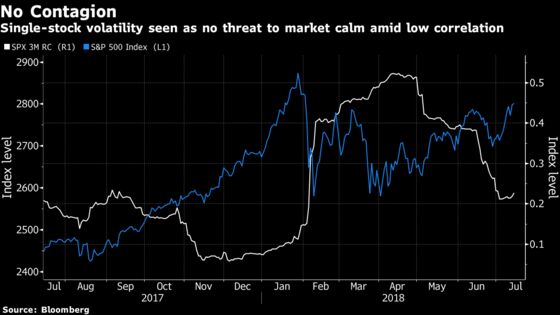 "The correlation between stocks helps dictate how much single stock volatility manifests at the index level," Lin wrote in a note this week. "When correlation is higher, index volatility is closer to the average single stock volatility. However, in a low correlation regime, index volatility is significantly lower than average single stock volatility."
While tech shares led the market over the week, their gains weren't enough to make up for the lost ground to dividend shares over the past month. Amid all the market resilience, strategists from RBC Capital Markets to Morgan Stanley urged investors to go defensive.
Ironically, Goldman Sachs says the prevailing caution is one reason why this earnings season may turn out to be better than the previous one: expectations are muted. Hedge fund clients who were aggressively positioned heading into April are more conservative now, with exposures sitting near the bottom of their 12-month range.
So are forecasts. While at 39.18 a share, the estimate for second-quarter profits represents a 20 percent jump, it's stayed roughly the same as in May, when companies were done with the last reporting season, data compiled by Bloomberg show.
With the S&P 500 less than 3 percent from its all-time high reached in January, the valuation case looks more favorable, thanks to continued profit expansions. At 16.6 times forecast earnings, the index is trading roughly in line with the five-year average.
But that alone doesn't guarantee a trip to new highs, especially when midterm elections loom and stocks from Europe and China have slumped this year amid growth concerns, according to Bruce Bittles, chief investment strategist at RW Baird in Florida.
"Investors are worried, but when you see the Nasdaq make a new high, that's lot of speculative juices there," Bittles said by phone. "How deep is the worry?"