Junk Bonds Are Booming, But So Are Hedges Against Them
(Bloomberg) -- U.S. credit funds are on a tear, but it's not all bullish.
Hedging has skyrocketed to near-record levels as investors rush to snap up junk-bond protection, a point that may go overlooked by those encouraged by inflows to the asset class.
Mutual funds to exchange-traded products suggest demand for riskier debt is returning. The $16 billion iShares High Yield Corporate Bond ETF, ticker HYG, the largest in the category, is on track for the largest two-week inflow since 2016 after attracting $1.8 billion through Thursday's close.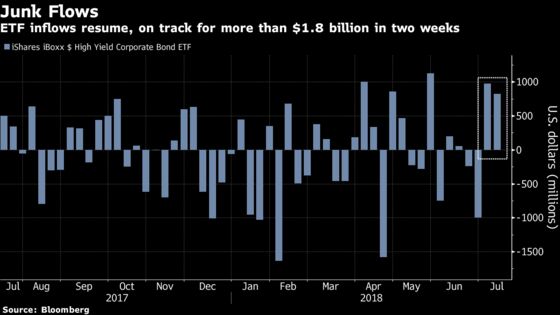 Look closer, and demand for options that pay off when shares decline is also soaring. Open interest for put options on HYG climbed to 2.5 million contracts, virtually in-line with a record set in May.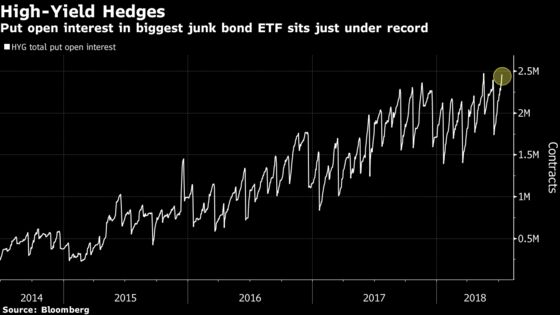 In the cash market, spreads for the lowest-rated high-yield bonds fell to a four-year low this week.
The rising open interest may reflect hedge-fund activity, since managers typically turn to ETFs to offset exposure to junk bonds, according to Dennis Debusschere, head of portfolio strategy at Evercore ISI.
Investors may be bolstering defenses against an economic downturn, he said.
"Many think it will happen naturally anyway, but will be hastened by trade friction," Debusschere said.