Japanese Yield Hunters Face Slim Pickings in Major Bond Markets
(Bloomberg) -- For Japanese investors looking to pick up yield from major bond markets, there isn't an awful lot out there.
When currency hedging is taken into account, money managers from the Asian nation get lower yields from U.S. Treasuries and most German bunds than they can get from the paltry levels on Japanese 30-year bonds. Returns aren't great on debt from the U.K. and Australia either, based on data compiled by Bloomberg.
They can get some pick up by putting funds into longer-maturity Spanish and Italian debt -- and they have been doing that -- but those come with much greater risk. Italy's bonds suffered record declines in May as the new populist government's policy platform rattled investor confidence.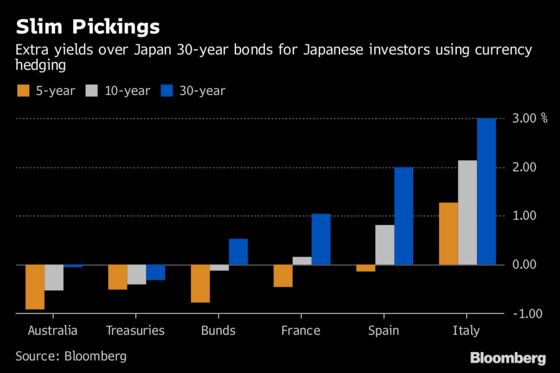 Japanese 30-year bonds currently yield 0.68 percent, down from the average of about 1.76 percent in 2013. Japanese funds who buy a similar-maturity Treasury, while hedging via three-month rolling currency basis swaps, would get 30 basis points less. While a venture into negative-yielding five-year bunds mean they will miss out on almost 0.8 percentage points.
Italian 30-year bonds offer a yield pick-up of 2.99 percent over the domestic equivalent, while they can get about 2 percentage points extra from similar-maturity Spanish debt.
This would suggest that yen-funded investors should take the additional risks in European peripheral debt or keep their money in long-dated Japanese government bonds. For them, the grass isn't greener in some of the world's biggest bond markets.