Japan Stock Gloom Could Turn to Glee as Earnings Season Nears
(Bloomberg) -- It's time to be optimistic on the worst-performing stock market in the G7, according to one of Japan's top-ranked equity strategists.
Battered by outflows, bruised by a dependence on trade and suffering from a five percent slump so far this year, Japanese stocks are getting hit from a multitude of angles. But as earnings season approaches, sentiment could quickly swing in their favor, said JPMorgan Chase & Co.'s Ryota Sakagami, who was voted Institutional Investor's top Japan equity strategist in 2016.
"We think further downside is limited for Japanese stocks," he wrote in a note to clients Thursday. "Confirmation of strong April-June results could bring an opportunity for a bit of a swing back."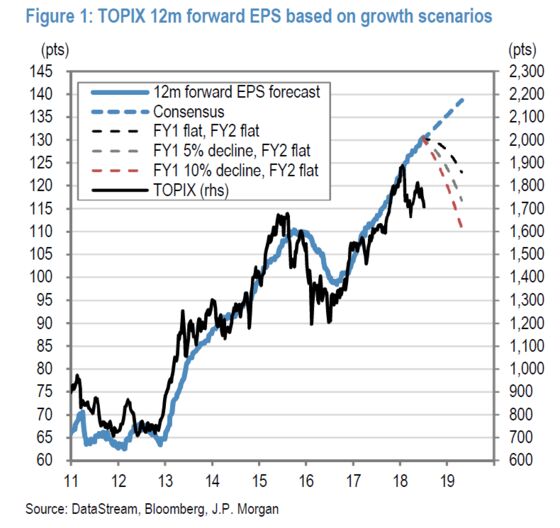 The Topix index is down about 5 percent this year, and continues to be "jostled" by news flow surrounding by trade frictions, the strategist said. That's more than every G7 peer benchmark index and about 5 percentage points worse than the global gauge of developed and emerging market stocks.
The current level of the Topix index implies that earnings will shrink by as much as 10 percent, according to Sakagami's calculations. However, with the global economy still strong, the possibility of a favorable turn in guidance is actually high, he said.
Given the chance for companies to surprise investors by shrugging off U.S.-China trade spat worries, sentiment could quickly swing in favor of the world's third-biggest equity market, the strategist said.
Early signs to validate his theory came this week from Fast Retailing Co., which has more than 100 factories in China that pump out clothing endorsed by tennis legend Roger Federer. Its shares surged more than six percent after operating income beat even the highest analyst estimate.
While it'll take more than one good apple to make a trend, the suggestion by the company that trade restrictions between Beijing and Washington will have limited impact on its supply chain will give comfort to those that mapped out a worse-case scenario for global trade.
"With the heart of April-June earnings reporting season approaching, prospects seem promising," said Sakagami. He suggests a contrarian approach and has a positive outlook on industries that have been shunned by investors such as the materials, machinery, financials and food sectors.