Hedge Funds of China, India Lead Losses as Dollar Strengthens
(Bloomberg) -- Hedge funds are having a tough time this year after having enjoyed smooth sailing in 2017.
China-focused hedge funds led losses among emerging market in June, while India funds overtook Brazil to become the biggest losers this year, according to performance data from eVestment.
China funds fell 4.7 percent in June, pulling down aggregate emerging-market performance in 2018 to a loss. India and Brazil were the other largest losers last month. A strong dollar and looming trade war have been hurting emerging-market hedge funds, Peter Laurelli, eVestment's global head of research, wrote in a note.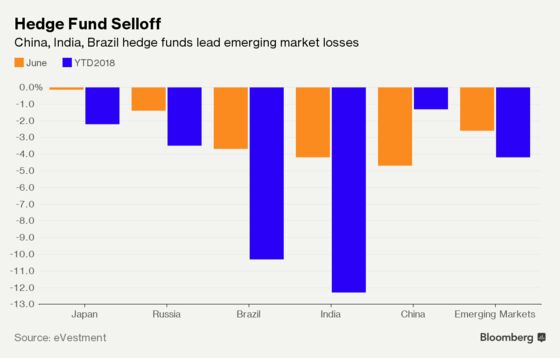 India funds have lost 12.3 percent this year as those for emerging markets slid 4.2 percent. Hedge funds overall dropped 0.51 percent in June weighed by the selloff in emerging markets. Managed futures, macro and quantitative equity strategies struggled among hedge fund strategies.
"This is not a situation which inspires confidence, but we must also remind ourselves to not focus on the short term," Laurelli said.