Blame Humans for This Robot Hedge Fund Malfunction
(Bloomberg Opinion) -- If only it could all be blamed on those Cambridge boffins and their robots. GAM Holding AG can't pin all of its troubles on its bet on a computer-driven hedge fund.
The Swiss asset manager warned on Friday that profit would suffer as it wrote off $59 million of goodwill on its $217 million acquisition of Cantab Capital Partners LLP, a trend-following hedge fund it acquired in October 2016.
The problem lies less with the black boxes in Cambridge than with the suits in Zurich. GAM's expectations look to have been too optimistic. The hoped-for growth in assets under management and performance fees never materialized.
At the time of the purchase, Cantab had about $4 billion of assets under management. What GAM now calls its "systematic" assets were slightly less than $5 billion in June. After losing money in 2015 and 2016, Cantab's Aristarchus product generated a 31 percent gain in 2017. It's down about 19 percent so far this year.
It's a big setback for GAM's CEO Alexander Friedman, and a nasty surprise for shareholders who sent the stock down by 10 percent. Faced with spiraling regulatory costs and the burgeoning popularity of cheaper products such as exchange-traded funds, he has attempted to overhaul GAM by making acquisitions and cutting expenses. It's easy to try to buy your way out of a hole by splashing out on the latest hot thing in hedge funds and hoping all will be well. It doesn't make for a successful strategy, though.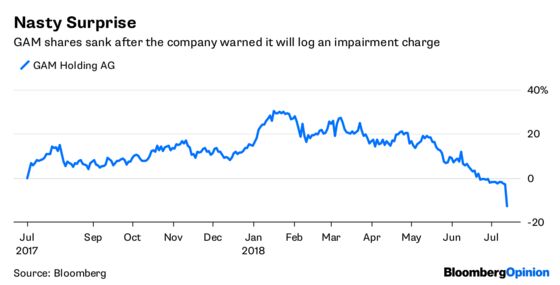 Activist investor RBR Capital Advisors AG had warned that the purchases of Cantab and the U.K. equities firm Taube Hodson Stonex Partners were misguided and expensive. Those claims look prescient. Alas, RBR walked away in mid-2017 as it struggled to win the backing of other investors for its campaign to oust Friedman.
At least the activist forced the CEO to take his bonus in stock rather than cash. That means he'll share some of the pain with GAM shareholders.
GAM's problem is lack of direction and scale; it manages only $169.4 billion of assets. That's puny compared to peers like Schroders, which has $587 billion under management. Investors can only hope that GAM will attract a buyer one day, but it might be too small to interest a larger suitor. If Friedman can't find a purchaser in the medium term, expect his position to come under increasing pressure.