Who Has the Last Laugh in Trade War? Chances Are, Not U.S. Firms
(Bloomberg) -- President Donald Trump's trade war was meant to protect the interest of Americans. But when it comes to major U.S. companies, trade levies could hurt them more than their Chinese counterparts.
Companies in the MSCI USA Index rely on China for 6.6 percent of their revenue, data compiled by MSCI Inc. show. Their Chinese peers, on average, rely on the U.S. for just 2 percent.
Measuring the potential impact of a trade war on revenues hasn't been easy as most U.S. companies kept quiet ahead of earnings season, leaving analysts with no option but to look at a stock's performance and wait for official forward guidance. From a price perspective, things didn't look too bad: Chinese companies have lost at least 10 percent since mid-June amid trade tensions while the U.S. peers have barely budged.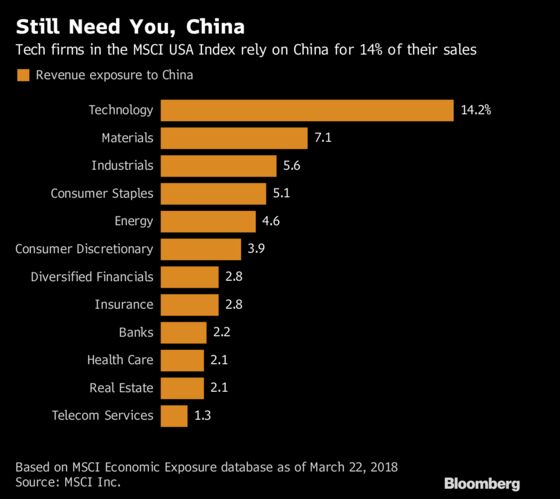 Zero in on U.S. companies with the highest exposure to China and the picture worsens. JPMorgan Chase & Co's basket of stocks that derive at least 15 percent of their revenue from China, which includes firms like Sotheby's, Crocs Inc. and Delphi Technologies, retreated 2.3 percent on Wednesday, the most since April. The index has fallen 5 percent since mid-June, compared with a 0.1 percent dip in the S&P 500 over the span.
Earnings season begins Friday, and all eyes are on companies' comments on the impact of trade, with some sectors potentially more affected than others. European carmakers Daimler AG and Osram Licht AG have recently cut forecasts, citing trade barriers. Federal Reserve chairman Jay Powell warned last month that a trade war is increasingly weighing on businesses and adding risks to the outlook.
Among stocks hit the hardest Wednesday was Vince Holding Corp., an apparel maker which has 83 percent of its products made in China. The stock slumped 5.5 percent in its biggest loss since February.