VIX ETF Love Affair Endures as Volatility Falls
(Bloomberg) -- Exchange-traded fund investors can't shake their volatility addiction.
Since the week after the infamous "volpocalypse" in early February, the ProShares Ultra VIX Short-Term Futures ETF, or UVXY, has seen net inflows of $308 million. More than 70 percent of that has come since July 3.
Investors have poured nearly $220 million into the $503 million fund this month without a single day of outflows. As one of the most liquid, leveraged ETFs that bet on volatility rising, UVXY uses derivatives in an attempt to produce returns equal to one-and-a-half times the underlying Cboe Volatility Index, better known as the VIX. The benchmark, sometimes called the "fear gauge" because it rises during times of market turmoil, has fallen roughly 20 percent in July.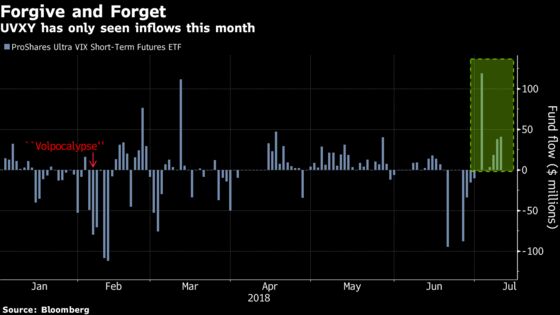 Volatility ticked up slightly on Wednesday after the Trump administration released a list of $200 billion worth of Chinese goods that will be subject to new tariffs. The VIX rose to 13.6, still below its five-year average of 14.6.
Despite the VIX's sharp downturn since February, the flows are probably bets on volatility rising, rather than shares created to short it, because UVXY is particularly popular among retail investors, who are less likely to deploy a short strategy, according to Josh Lukeman, head of ETF market making for the Americas at Credit Suisse Group AG.
Even though these flows probably stem from individual investors, hedge funds do often scoop up the fund for their own reasons. Of all ETFs with a market capitalization of at least $500 million, UVXY has the third-highest hedge-fund ownership, according to data compiled by Bloomberg. It's also one of the most heavily shorted ETFs, with short interest as a percentage of total current shares hovering near 20 percent.