The S&P Futures Fakeout: Down at Dawn, Up at Noon, Then a Fade
(Bloomberg) -- If you're a stock trader, you probably sense this.
It's the daily contour of the U.S. market, displayed in a composite chart that averages five-minute price points in S&P 500 futures over the last two months. The picture is of a benchmark that steadily weakens overnight, perks up when American traders hit their desks, then slowly fades into the close.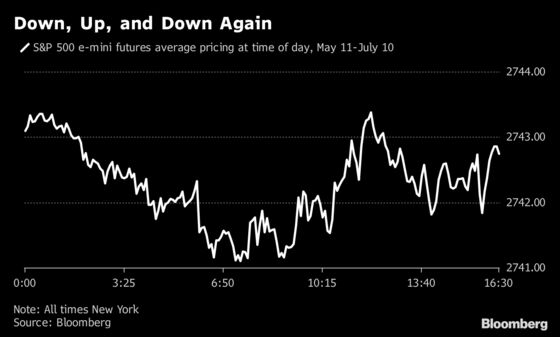 Each day is different. But a loose and thoroughly unscientific narrative could be fitted to the chart in which global trade tensions deflate equities overnight, U.S. investors awaken and, possibly fortified by fresh economic data, bid stocks back up, then bullish positions are reconsidered into the close.
"This type of back and forth price action has defined 2018 thus far," said Frank Cappelleri, senior equity trader at Instinet LLC. "We've seen strong moves in both directions fade quickly, no matter what time from we're talking about it -- be it intraday or over multiple weeks. The long-lasting moves of last year have been challenging to find for nearly six months now, making it hard to trust any budding trend up to this point."
Wednesday's market traced a similar path. Contracts on the benchmark bottomed after President Donald Trump threatened more tariffs on China, slid to another low around 4 a.m. and then jumped 17 points to a series of highs between 10:30 and 11 a.m. in New York. After that, futures retreated as selling picked up as Asia trading neared.
The contrasting performance may also reflect divergent sentiment in the U.S. versus the rest of the world. Perhaps not coincidentally, the S&P 500 has outperformed stocks from Europe to Asia as tax cuts bolstered profits for corporate America. For second-quarter earnings season that starts this week, analysts expect S&P 500 profits to increase 20 percent.
"All things considered on the global stage, the U.S. is holding up fairly well," said JC O'Hara, chief market technician at MKM Partners. "The fact that futures seem to be lower each morning but then the U.S. manages to lift it higher shows the resilience and strength of the U.S. markets."