Thailand's $6 Billion Exodus Doesn't Faze Its Exchange Chief
(Bloomberg) -- Foreign investors have pulled more than $6 billion from Thai stocks this year. But that's no reason for concern, says the president of the nation's main bourse.
Thailand's "sound" economic fundamentals and corporate-earnings growth will attract domestic investors, and those will make up for the biggest foreign withdrawals in about five years, Pakorn Peetathawatchai, the president of the Stock Exchange of Thailand, said at the Bloomberg's Asean Business Summit in Bangkok Thursday.
It's also thanks to the locals that the nation's shares have done better than regional peers, he said. While the benchmark Stock Exchange of Thailand Index hasn't been immune to escalating U.S.-China trade tension and rising interest rates -- it's down more than 6 percent this year -- it's outperforming markets such as Indonesia, Vietnam and the Philippines, whose national gauges have plunged as much as 14 percent in the same period.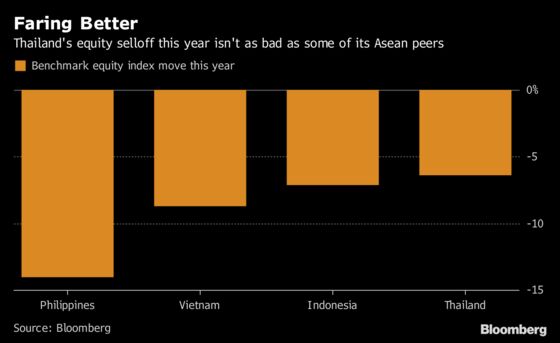 "The stock market hasn't dropped that much because of the depth and trading liquidity" thanks to domestic investors, Pakorn said and added that foreigners hold about 30 percent of the Thai stock market.
Export growth, a rebound in domestic private consumption and investments, as well as increased government spending will accelerate the expansion in Southeast Asia's second-biggest economy, bolstering corporate earnings, he said. The nation is forecast to grow at a 4.2 percent rate this year, up from 3.9 percent in 2017.
Pakorn, who took over at the exchange on June 1, is seeking to boost trading on the Thai bourse. He reiterated his plan to increase the number of new products available to companies already public elsewhere in Southeast Asia, with a focus on dual and cross listings as well as depository receipts. The bourse expects to attract its first foreign-stock listing this year, he said in June.