S&P 500 Is Very Close to Putting March and April Behind It
(Bloomberg) -- A blast of buying in the last few minutes of Thursday's trading session pushed the S&P 500 Index to within a hair's breadth of 2,800.
The benchmark gauge rose to as high as 2,799.22, just missing the round-number milestone that has been a ceiling for past rallies in an on-again, off-again recovery since February's market correction.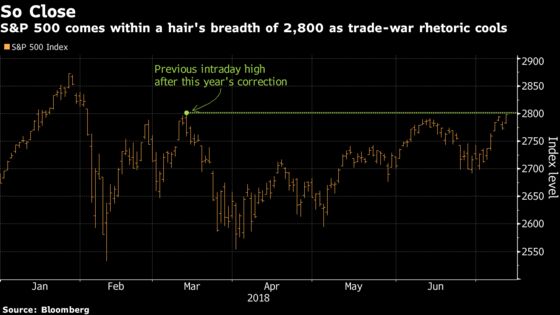 Stocks sold off Wednesday after the Trump administration's announcement that an additional $200 billion of Chinese products may be hit with tariffs. They rebounded Thursday after officials in Beijing appeared to be toning down the rhetoric, holding off any immediate retaliation to the latest threats.
The S&P 500 has advanced 2.9 percent this month as traders await the start of the second-quarter earnings season, which kicks off in earnest on Friday with JPMorgan Chase & Co.'s report. Analysts are expecting to see profit growth of 20 percent for firms in the equity index. That would be the second-biggest increase since 2011, behind this year's first quarter.