Trade War Fallout Blurs Lines Between Japan and China Stocks
(Bloomberg) -- On Thursday, the Japanese stock market got an extra lift around 10:30 a.m. in Tokyo. China had started trading, and it had opened higher.
But that was a rare lucky day for investors who got used to losses this year, with the Topix index becoming one of the worst performers among developed-market gauges. As the U.S.-China trade conflict flared up, Japanese market participants had to add the Shanghai Composite Index to their must-watch list. And for good reason: the Topix has become the most in sync it's ever been with the Chinese equity benchmark.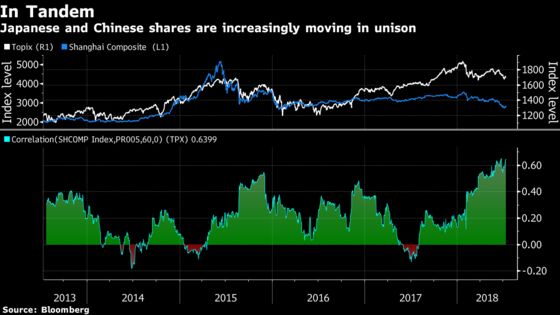 "If you look on a daily basis, Japan seems to take its direction from China," said Jonathan Allum, a strategist at SMBC Nikko Capital Markets Ltd. in London. "The signs of slowing that we have seen in many economies, especially in the first quarter, plus fears over trade friction do not amount to the sort of background against which Japanese stocks tend to perform."
With a 4.8 percent decline this year, the Topix is headed for its worst annual performance since 2011. The tension between the U.S. and China -- Japan's biggest trade partners -- is intensifying concerns over a global economic slowdown and adding to those surrounding a cooling of the technology sector, with its Tokyo shares down after two years of gains.
As the Shanghai Composite succumbed to bear territory last month, pessimism increased among traders of Japanese stocks. Foreign investors have offloaded 3.8 trillion yen ($34 billion) of cash equities this year after pouring in 753.2 billion yen in 2017. In the U.S., the biggest exchange-traded fund tracking the nation's shares recorded its longest streak of weekly outflows since 2016.
And options bets show the mood remains somber. The ratio of bearish-to-bullish Nikkei 225 Stock Average contracts is near the highest level since 2007, with the cost of hedging hitting a two-year high last week. That was even before the Trump administration announced plans to impose tariffs on an additional $200 billion of Chinese products.
"Japan is a big export nation -- earnings per share for Topix have increased together with an expansion in global trade," said Takeshi Kamoshita, a fund manager at Asset Management One Co. "The outlook for Japanese shares will depend on whether worries over the trade war escalates from here or not."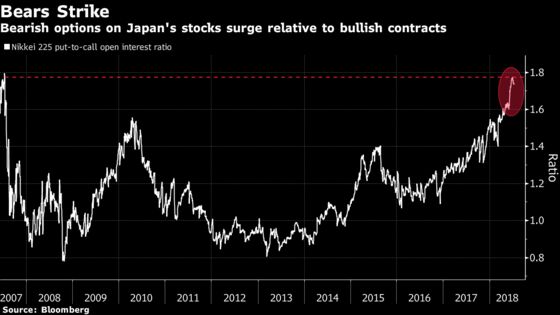 Keita Kubota, a senior investment manager at Aberdeen Standard Investments in Tokyo, says fundamentals remain solid despite some recent disappointments. Japan's growth potential will drive returns in the medium to long term, though investors need to be selective in the current market, he said.
"If you look at last year's performance, there were several themes, which played out quite well," Kubota said. "Entering this year, some of those themes have come off because fundamentals are not catching up to the expectations. If you take a mid- to long-term view, then the growth trajectory is quite solid."
SMBC Nikko's Allum and many fellow market watchers also see potential for Japan -- capital expenditure keeps on growing and the pace of wage increases is accelerating. While that may provide a case to buy the nation's stocks, though, it's not clear how the market could cope with a trade war, he said.
"The question is whether, even if this more bullish domestic case develops, Japanese stocks would outperform against a gloomier global backdrop," Allum said. "On this I am hopeful, but far from convinced."