GIC Joins Its Singapore Sibling in Warning About Global Slowdown
(Bloomberg) -- Singapore's sovereign wealth fund GIC Pte. warned that its investment returns will be lower in coming years, as trade disputes escalate and the odds of a global economic slump increase.
In a sign of its growing caution, GIC has reduced the proportion of its money allocated to developed economy stocks and boosted the share in cash and nominal bonds, its annual report released Friday showed. The wealth fund's annualized real rate of return fell to 3.4 percent in the 20 years to March 31, from 3.7 percent in the prior comparable period.
The sovereign fund echoed a note of wariness sounded earlier this week by Singapore's other state investment giant, Temasek Holdings Pte., which said it may slow investment as economic risks rise. GIC forecasts lower returns in the coming "couple of years," with factors such as declining credit quality and monetary tightening increasing the possibility of a global downturn. This year's market volatility may presage more turbulence to come.
"Trade frictions, investment restrictions clearly will cause problems for companies, which is where we get our return," Lim Chow Kiat, GIC's chief executive officer, said in an interview in Singapore. "Most companies will be losers at the end of this."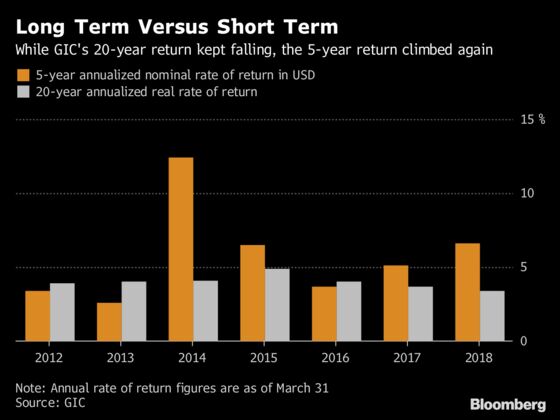 The fund reiterated concerns about income inequality, populism, geopolitical conflicts and the potential negative impact of disruptive technologies. Valuations remain high across assets including U.S. equity markets and high-yield credit within public markets, it said.
"Because the valuations are generally on the high side for the major markets that we invest in, it is harder and harder to find good investments," Lim said in the interview. "Even if we work very hard, there is some limit to what we can do."
Read more: Singapore's GIC Says Becoming Skeptical of Technology Valuations
The return of market volatility and subdued forecasts mark a turning point for many of the world's largest investors, who've enjoyed the spoils of a run-up in assets in recent years as central banks kept rates low. China's sovereign wealth fund reported a record return on its overseas investments last year. Japan's Government Pension Investment Fund posted its best annual gain in three years in 2017, although executives said the trade friction between the U.S. and China has become a big issue when assessing the investment environment.
This year's turbulence is starting to ripple through the portfolios of some sovereign wealth funds. Norway's $1 trillion wealth fund reported its first loss in two years in the first quarter after a stock selloff.
GIC's 20-year real return fell partly because the calculation now excludes the year through March 1998, when rallying markets boosted returns. The fund's nominal five-year annualized return in U.S. dollars climbed to 6.6 percent from 5.1 percent.
Developed market equities shrank to 23 percent of GIC's portfolio from 27 percent in the previous year, while the proportion of nominal bonds and cash rose two percentage points to 37 percent. That's well above the 25 percent to 30 percent range in GIC's policy portfolio, which represents its asset allocation strategy over the long term. Real estate was unchanged with a 7 percent share.
"Long-term returns are likely to be significantly lower than what we experienced since the 1980s given the high valuations today and the expected rise in interest rates from their current very low levels," GIC said.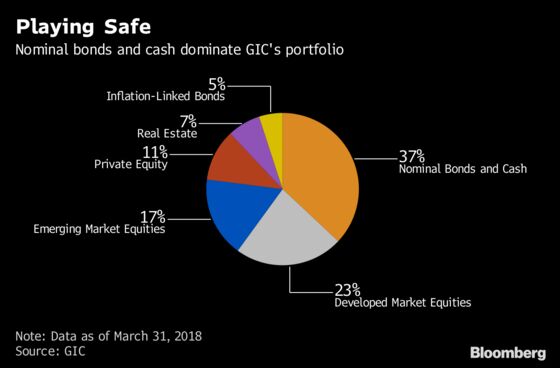 GIC's major acquisitions during the reporting period included a stake in Shinjuku MAYNDS Tower in Tokyo. The fund was among investors who bought 22 U.S. student housing properties from Harrison Street Real Estate Capital LLC and among the buyers of a 55 percent stake in Thomson Reuters Corp.'s financial and risk unit in a deal that valued the business at $20 billion. Together with Blackstone Group LP and Massachusetts Mutual Life Insurance Co., the Singapore state investor also bought a stake in U.K. insurer Rothesay Life Plc. from Goldman Sachs Group Inc.
GIC manages a mix of government surpluses and inflows from the Central Provident Fund, a government savings plan that provides retirement income for Singaporeans. GIC doesn't disclose the size of its assets under management, saying only that it manages "well over" $100 billion. The London-based Sovereign Wealth Center puts its total holdings at $398 billion, making it the world's fifth-biggest state fund.