European Funds Are Exiting EU Banks With Increasing Fervor
(Bloomberg) -- Equity funds investing in Europe are abandoning the region's banks with increasing conviction in favor of sectors like technology, which promise higher growth potential.
That's according to a study by Goldman Sachs Group Inc. which showed that funds have reduced their exposure to Europe's banks over the past 12 months, and even more so since the start of this year. The banking sector is also the one with the largest short consensus, according to the report, based on the exposure in May of 440 mutual funds with $231 billion in assets under management.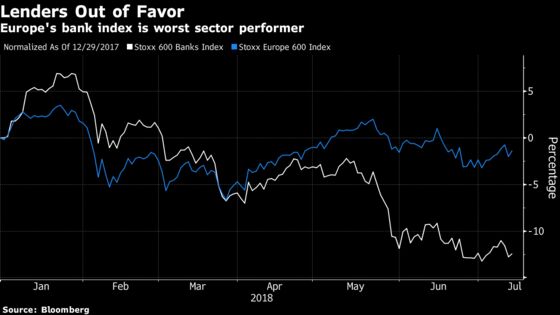 "Over the past year, as well as since the beginning of the year, funds have increased their exposure to technology and reduced further their exposure to banks," analysts led by Lilia Peytavin said in a July 11 report.
European banks are encountering several headwinds, both external and internal, to make the sector the worst performer in the Stoxx 600 benchmark this year. Optimism for an early interest rate increase is evaporating as trade tensions between the U.S. and China escalate and political turmoil in Italy and Spain threaten to hobble Europe's economy.
Some banks have had their own troubles, including Deutsche Bank AG, which is working on yet another reshuffle of its business. Its stock is the biggest decliner in the group this year, tumbling 40 percent since the start of the year as it chalked up its third straight annual loss, replaced its chief executive and failed the first public stress test of its U.S. business.
Read here for more on how the trade war is influencing investment decisions.
Industrial goods and services is the sector with the largest overweight exposure, while portfolio managers are also wary of consumer staples, utilities and automotive stocks, the Goldman report showed.